Recently, a customer dispute has been brought to light, involving a broker from Moloney Securities Co., Inc., David Wampler. The dispute revolves around allegations of suitability and negligence, with the claimant seeking damages of $100,000. The case is currently pending and has been assigned the case number 23-01052.
Understanding the Dispute
The dispute, which was filed in 2021, alleges that Wampler, who has been associated with Moloney Securities Co., Inc. since June 2003 and Moloney Securities Asset Management LLC since February 2016, acted negligently and in a manner unsuitable to the client's investment objectives. Specifically, the dispute involves corporate debt, a type of fixed-income security that companies issue to finance their operations.
David Wampler has refuted the allegations, but the case is still under review. His BrokerCheck record, maintained by the Financial Industry Regulatory Authority (FINRA), reveals no previous disputes or disciplinary actions.
The Role of FINRA
FINRA is a non-governmental organization that regulates member brokerage firms and exchange markets in the United States. It is dedicated to investor protection and market integrity through effective and efficient regulation of the securities industry. When disputes arise between investors and brokers, FINRA provides a platform for arbitration, where these disagreements can be resolved.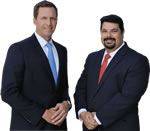 AD - Recover your investment losses! Haselkorn & Thibaut, P.A. is a national law firm that specializes in fighting ONLY on behalf of investors. With a 95% success rate, let us help you recover your investment losses today. Call now 1-888-784-3315 or visit InvestmentFraudLawyers.com to schedule a free consultation and learn how our experience can help you recover your investment losses. No recovery, no fee.
Recovering Losses with FINRA Arbitration
Arbitration is often the quickest and most cost-effective way to resolve disputes in the securities industry. The process involves an impartial third party, known as an arbitrator, who listens to both sides of the argument before making a decision. If the arbitrator rules in favor of the investor, the broker or firm may be ordered to pay damages.
Investors who believe they have been wronged by their broker or brokerage firm have the right to file a dispute with FINRA. This can be an effective way to recover losses resulting from unsuitable investments, negligence, or other forms of misconduct. It's important to remember that every case is unique, and the success of an arbitration claim depends on a variety of factors, including the strength of the evidence and the specifics of the investment strategy in question.
Investors considering arbitration should seek legal advice to understand the process and their chances of success. It's also crucial to act promptly, as FINRA has a six-year eligibility rule for most cases.
In conclusion, while the outcome of the dispute involving David Wampler is yet to be determined, it serves as a reminder of the importance of investor vigilance and the value of organizations like FINRA. Through its arbitration process, FINRA offers a viable path for investors to recover losses and hold brokers accountable for their actions.