In a recent judgment, Austin Dutton, a former American Trust Investment Services, Inc. and Sandlapper Wealth Management, LLC broker, was named in a customer dispute. The customer complaint alleged a series of violations, including federal securities laws, Pennsylvania securities laws, and the Pennsylvania unfair trade practices and consumer protection law. In addition to these, the complaint also included charges of breach of contract, common law fraud, breach of fiduciary duty, and negligence and gross negligence.
The judgment, which was issued on 7/5/2022, resulted in Dutton being ordered to pay a sum of $43,644.69. The case was registered under FINRA – CASE #22-01509Y22-0150911N. This is not the first time that Dutton has been named in a customer dispute. His record, which is publicly available on FINRA's BrokerCheck, reveals a history of similar complaints.
The Role of FINRA in Protecting Investors
The Financial Industry Regulatory Authority (FINRA) is a non-governmental organization that regulates member brokerage firms and exchange markets in the United States. Its primary role is to protect investors by ensuring that the broker-dealer industry operates fairly and honestly. FINRA achieves this by writing and enforcing rules governing the activities of more than 624,000 brokers.
One of the key ways that FINRA protects investors is through its dispute resolution forum, commonly known as FINRA arbitration. This is where investors can file complaints against brokers or brokerage firms if they believe they have been wronged.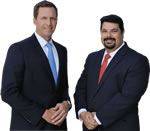 AD - Recover your investment losses! Haselkorn & Thibaut, P.A. is a national law firm that specializes in fighting ONLY on behalf of investors. With a 95% success rate, let us help you recover your investment losses today. Call now 1-888-784-3315 or visit InvestmentFraudLawyers.com to schedule a free consultation and learn how our experience can help you recover your investment losses. No recovery, no fee.
Recovering Losses with FINRA Arbitration
When investors suffer losses due to broker misconduct, they have the right to seek compensation through FINRA arbitration. This is a legal process where an impartial arbitrator or panel hears the dispute and makes a decision. The decision made by the arbitrators is final and binding on all parties involved.
Investors who have lost money due to broker misconduct such as unsuitable investments, over-concentration, churning, or fraud, can file a claim with FINRA. The process involves submitting a statement of claim outlining the dispute and the relief sought. The broker or brokerage firm then has a chance to respond. After this, a hearing is scheduled which both parties present their case.
It's important to note that investors have a limited time to file a claim. Usually, this is within six years from the event or occurrence, giving rise to the dispute. However, this can vary depending on the nature of the dispute and the laws of the state where the investor resides.
Investors who believe their broker or brokerage firm has wronged them should consult with an experienced securities arbitration attorney. These professionals can help investors navigate the arbitration process and potentially recover their losses.
While the process can be complex and time-consuming, the potential for recovering losses makes it a worthwhile avenue for many investors. The recent judgment against Austin Dutton is a clear example of how investors can use FINRA arbitration to seek justice and recover their losses.