Investors who have experienced financial losses due to misrepresentation or misconduct by their brokers have a viable route to recover their losses through the Financial Industry Regulatory Authority (FINRA) arbitration process. A recent case involving a registered representative, David White, at Centaurus Financial, Inc. highlights the importance and effectiveness of this arbitration process.
The Case of David White
David White, a registered representative at Centaurus Financial, Inc., is currently facing a pending customer dispute. The customer alleges that in April 2019, White misrepresented a high-risk investment, leading to a loss of $50,000. The case, identified under the case number 23-00852N1111N, is currently under review by FINRA, as indicated on their BrokerCheck platform.
What is FINRA Arbitration?
FINRA arbitration is a dispute resolution process that is quicker and less formal than litigation. It is the largest forum in the United States for resolving disputes between investors and brokerage firms or brokers. Arbitration is a legally binding procedure where a neutral third party, known as an arbitrator, reviews the evidence presented by the parties and makes a decision.
How Can Investors Recover Losses?
Investors who have suffered losses due to broker misconduct or misrepresentation can file a claim with FINRA, initiating the arbitration process. The claim must include a statement of the dispute and the amount of monetary damages sought. Once the case is reviewed and the arbitrator determines that the broker or firm was at fault, the investor can recover their losses.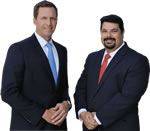 AD - Recover your investment losses! Haselkorn & Thibaut, P.A. is a national law firm that specializes in fighting ONLY on behalf of investors. With a 95% success rate, let us help you recover your investment losses today. Call now 1-888-784-3315 or visit InvestmentFraudLawyers.com to schedule a free consultation and learn how our experience can help you recover your investment losses. No recovery, no fee.
Centaurus Financial, Inc. and FINRA
Centaurus Financial, Inc., a firm with a history dating back to 2005, has faced multiple claims of misconduct over the years. Despite these allegations, the firm continues to operate, with David White's case being the latest in a series of disputes. The outcome of this case will depend on the FINRA arbitration process.
Conclusion
While investing always carries a level of risk, investors should not bear the brunt of losses due to misrepresentation or misconduct by their brokers. The FINRA arbitration process provides a viable route for investors to recover their losses in such cases. The case of David White serves as a reminder for investors to stay vigilant and hold their brokers accountable for their actions.