The Securities and Exchange Commission (SEC) has instituted public administrative proceedings against Brian Raymond Callahan ("Callahan" or "Respondent"), under Section 203(f) of the Investment Advisers Act of 1940 ("Advisers Act"). This follows a long-running fraudulent Ponzi scheme in which Callahan misled investors about the nature of their investments and misappropriated their funds.
Callahan's fraudulent activities were first brought to light in 2012 when the SEC filed a civil action against him. On April 29, 2014, Callahan pleaded guilty to one count of securities fraud and one count of wire fraud in the United States District Court for the Eastern District of New York. He was sentenced to a prison term of 144 months, three years of supervised release, and ordered to make restitution in the amount of $67,615,407.
Final Judgment Against Callahan
On May 12, 2023, a final judgment was entered by consent against Callahan. He was permanently enjoined from future violations of Section 17(a) of the Securities Act of 1933 ("Securities Act"), Section 10(b) of the Securities Exchange Act of 1934 ("Exchange Act") and Rule 10b-5 thereunder, and Sections 206(1), (2) and (4) of the Advisers Act and Rule 206(4)-8 thereunder.
Callahan's Misuse of Investor Funds
According to the Commission's complaint, from 2005 to 2012, Callahan raised tens of millions of dollars from at least 45 investors for at least five offshore pooled investment funds that he operated. Callahan misused a portion of investor assets to pay other investors seeking redemptions, diverted investor assets to a real estate project on Long Island, and misused fund assets for his personal benefit.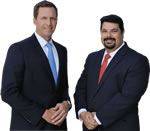 AD - Recover your investment losses! Haselkorn & Thibaut, P.A. is a national law firm that specializes in fighting ONLY on behalf of investors. With a 95% success rate, let us help you recover your investment losses today. Call now 1-888-784-3315 or visit InvestmentFraudLawyers.com to schedule a free consultation and learn how our experience can help you recover your investment losses. No recovery, no fee.
Investors Recovering Losses with FINRA Arbitration
Victims of fraudulent schemes, like those perpetrated by Callahan, have a recourse to recover their losses through arbitration with the Financial Industry Regulatory Authority (FINRA). FINRA is a non-governmental organization that regulates member brokerage firms and exchange markets in the United States. It operates the largest securities dispute resolution forum in the United States and has extensive experience in providing a fair, efficient and effective venue to handle a securities-related dispute.
Investors who have suffered losses due to the fraudulent actions of a broker can file a claim with FINRA. The arbitration process is quicker and less formal than litigation, making it a preferred choice for many investors seeking to recover their funds. The arbitration panel, composed of unbiased, knowledgeable individuals, reviews the facts of the case and makes a decision which is final and binding.
Although the arbitration process does not guarantee a full recovery of losses, it offers a viable avenue for investors to seek and potentially receive compensation. Investors are advised to act promptly, as there are time limits for filing a claim.
As the case of Callahan demonstrates, it is crucial for investors to remain vigilant and informed about their investments. In the event of suspected fraudulent activity, investors should report their concerns to the SEC, FINRA, or another appropriate regulatory authority.