Imagine yourself sailing through a sea full of investment opportunities. Your financial advisor promises to guide you to financial success by navigating the rough waters. What happens, however, when your captain, without you knowing, steers the ship into a wind of commissions which he never disclosed? Would you feel betrayed if this happened? Misled? You feel like you've been thrown into a financial wreck?
Meet Vincent VirgaHe is a financial adviser with a record as turbulent as the ocean. He was affiliated with MADISON SECURITIES LLC From 04/28/2009 to February 5, 2021. He is currently with AE Wealth Management, LLC, and maintains ties to Madison Avenue Securities.
The Tale of Deception
In 2018, a customer filed a claim against Virga claiming that he never received information about the commissions he paid for the mutual funds he acquired. The company initially denied the claim. The client then escalated the issue to the Financial Industry Regulatory Authority. The result was? The result was a disciplinary action taken against Virga, and a settlement for $80,000 with damages of $22,141.45.
Recovering losses with FINRA arbitration
How can investors recover their losses if the trust in your investments is shattered and the market becomes stormy? FINRA arbitration is the answer. Investors can seek justice and recover losses when they are victims of unethical financial advisors or brokers.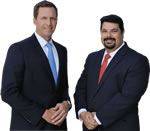 AD - Recover your investment losses! Haselkorn & Thibaut, P.A. is a national law firm that specializes in fighting ONLY on behalf of investors. With a 95% success rate, let us help you recover your investment losses today. Call now 1-888-784-3315 or visit InvestmentFraudLawyers.com to schedule a free consultation and learn how our experience can help you recover your investment losses. No recovery, no fee.
The process is faster and cheaper than traditional litigation.
It is a neutral forum for resolving disputes.
It provides a way to recover from losses caused by investment mistakes.
Feeling lost in a financial hurricane? Do you need a financial lifeline? Visit AlphaBetaStock.com To learn more about the options available to you, and for advice.
Stay informed and stay safe
Keep in mind that knowledge is your best weapon against investment fraud. Do your research before investing, and monitor your investments closely. BrokerCheck is a great tool to check out the background of financial advisors. Ask questions. It's your money and you should know where, how and why it is being invested.
The financial sea is unpredictable. With vigilance and knowledge, as well as the right resources, it is possible to navigate successfully. You shouldn't be influenced by the actions of a single unscrupulous Captain. Vincent Virga You can also find a firm such as MADISON SECURITIES LLC sink your financial ship. You are the captain of your financial fate. Stay informed and vigilant.