In a recent turn of events, Valentino Scott, a registered representative of CENTAURUS FINANCIAL, INC., is facing a customer dispute. The customer alleges that Scott recommended a risky, high yield, complex, illiquid investment, leading to a loss of $25,000. The representative, however, has vehemently denied any wrongdoing and asserts that the allegations are completely without merit.
Details of the Dispute
The customer's complaint revolves around the argument that the investments recommended by Scott were unsuitable given her financial circumstances and objectives. Scott, on the other hand, maintains that the investments were not only suitable but were also recommended after thorough review of all material documentation related to the investment.
Moreover, Scott claims that the customer confirmed in writing that they received the requisite investment documentation/disclosures and fully understood the characteristics and risks of the investments. He asserts that he always put the customer's interest first and plans to vigorously defend this matter to the fullest extent of the law.
Scott's Tenure at Centaurus Financial, Inc.
According to BrokerCheck, Scott has been with CENTAURUS FINANCIAL, INC. since January 13, 1995. His record shows no previous disputes or allegations of misconduct during his tenure at the firm. This recent dispute, however, brings his conduct and investment advice under scrutiny.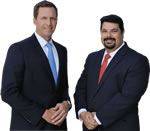 AD - Recover your investment losses! Haselkorn & Thibaut, P.A. is a national law firm that specializes in fighting ONLY on behalf of investors. With a 95% success rate, let us help you recover your investment losses today. Call now 1-888-784-3315 or visit InvestmentFraudLawyers.com to schedule a free consultation and learn how our experience can help you recover your investment losses. No recovery, no fee.
Investors Recovering Losses with Finra Arbitration
Investors who have suffered losses due to misconduct or unsuitable investment advice have recourse through the Financial Industry Regulatory Authority (FINRA) arbitration process.
FINRA arbitration is an alternative to litigation and can be a more efficient and cost-effective way to recover losses.
Investors can file a claim against the broker or brokerage firm, and the case is decided by an impartial panel of arbitrators.
The panel reviews the evidence and makes a decision, which is typically binding on all parties.
In this case, the customer could potentially recover her losses through the FINRA arbitration process if it is determined that Scott acted improperly or provided unsuitable investment advice.
Final Thoughts
While the dispute is still pending, it serves as a reminder for investors to fully understand the risks and characteristics of their investments. It is also crucial for brokers to ensure that they provide suitable investment advice based on the customer's objectives, goals, and financial circumstances. As the case unfolds, it will be interesting to see how the FINRA arbitration process aids in the resolution of this dispute.