In the bustling financial heart of New York, the venerable New York Supreme Court echoed with a verdict that sent ripples through the shipping industry worldwide. The esteemed court awarded TransAsia Commodities Investment Ltd., a London-based commodity trader, a staggering $22 million against NewLead Holdings Ltd. and its key officials.
What began nearly half a decade ago as a disagreement over a failed coal trade morphed into a scandal of mammoth proportions. How did a once-respected Nasdaq-listed international shipping company end up embroiled in a sophisticated "pump and dump" stock scam?
Unmasking the Deception
This wasn't just another boardroom brawl. The meticulous sifting through a whopping 741 documents and 26 motions laid bare a convoluted financial scheme orchestrated by what appeared to be an international shipping giant.
Judge Charles Ramos's earlier judgment in favor of TransAsia was particularly striking. He pinpointed liability on counts of common law fraud, fraudulent inducement, civil conspiracy, and alter ego, to name a few. His ensuing referral of the case to Special Referee Jeremy Feinberg only solidified TransAsia's position. Feinberg's comprehensive review backed TransAsia's financial grievances, a move that Judge Ramos swiftly confirmed.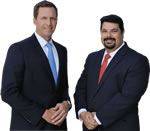 AD - Recover your investment losses! Haselkorn & Thibaut, P.A. is a national law firm that specializes in fighting ONLY on behalf of investors. With a 95% success rate, let us help you recover your investment losses today. Call now 1-888-784-3315 or visit InvestmentFraudLawyers.com to schedule a free consultation and learn how our experience can help you recover your investment losses. No recovery, no fee.
"In over 25 years in the commodities business I have never seen anything close to what I have personally experienced during this litigation," remarked Serge Turko, TransAsia's director, underscoring the audacity of the fraud.
The Plot Thickens
The linchpin? The elaborate facade of contracts inked with NewLead JMEG, an offshoot of NewLead. These contracts, signed in 2013, pertained to coal purchases from so-called mines that NewLead allegedly never owned. As the courtroom battles ensued, the evidence became incontrovertible. TransAsia's expert report zeroed in on NewLead's orchestrated effort to bolster its share price, a deception that reportedly benefitted CEO Michael Zolotas and his cohorts. These maneuvers involved:
Concealing actions by issuing shares to undisclosed offshore entities.
Leveraging off-market sales and purchase agreements to elude financial watchdogs.
Operating a spiderweb of nearly 75 entities across various international jurisdictions.
<blockquote>"The true extent of the fraud will never be uncovered as Zolotas deleted close to 3 years of evidence," Turko highlighted, laying bare the gravity of the situation.</blockquote>
The Aftermath
NewLead's market valuation paints a grim picture. From a valuation of $700 million five years ago, it plummeted to a measly $300,000, as per court records.
While NewLead might have seemed like the sole antagonist, other parties weren't free from scrutiny either. TransAsia found itself at the receiving end of false counterclaims and dubious contracts amounting to $241 million, compelling Mr. Turko to seek sanctuary under the UK High Court.
What Lies Ahead?
With its headquarters in Greece, NewLead's description as a global shipping and logistics conglomerate seems in stark contrast to its recent share price of $0.0001. Moreover, its CEO Michael Zolotas faces another storm – a trial in Cyprus connected to bribery allegations involving a former EU nation's central bank governor.
Meanwhile, Jan Berkowitz, another defendant, doesn't have a clear horizon either. Indicted for "Theft of Services," he was recently arrested and awaits extradition.
As the world watches, this case – TransAsia Commodities Investment Limited vs NewLead JMEG et al – has come to symbolize a cautionary tale about the lengths individuals might go to in pursuit of financial gain and the tenacity of those who seek justice. Only time will tell what other truths will unravel, but one thing's certain: vigilance, due diligence, and integrity remain paramount in the world of international trade and finance.