Financial Advisor Tony Barouti Faces Allegations of Fiduciary Breach and Negligence
In recent financial news, a pending customer dispute has been raised against Tony Barouti, a broker currently affiliated with Emerson Equity LLC. The allegations include breach of fiduciary duty, negligence and negligent misrepresentation, breach of contract, failure to supervise, and violation of Regulation Best Interest. The complainant is seeking damages of approximately $200,000.
Barouti, who has been with Emerson Equity LLC since June 13, 2017, has categorically denied these allegations. In a statement, he asserted, "The allegations against me are false. At all times, I acted within the bounds of SEC, FINRA, and State securities laws and regulations. I intend to vigorously defend myself against these claims."
Investors Can Recover Losses Through FINRA Arbitration
For investors who have suffered losses due to broker misconduct, Financial Industry Regulatory Authority (FINRA) arbitration offers a way to recover their investments. This method of dispute resolution is typically faster and less expensive than traditional litigation, making it a preferred choice for many investors.
FINRA Arbitration: This process involves presenting the dispute to a panel of arbitrators who listen to both parties and make a binding decision. The panel typically consists of either one or three arbitrators, depending on the amount of the claim.
Mediation: This is another option offered by FINRA, where a neutral third party helps the two parties reach a mutually agreeable resolution. Mediation can be used in conjunction with arbitration or separately.
It's important to note that brokers and brokerage firms are required to arbitrate at the request of the customer, according to FINRA rules. This means that investors have the right to seek redress through arbitration if they believe they have been wronged.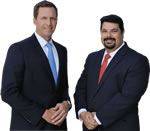 AD - Recover your investment losses! Haselkorn & Thibaut, P.A. is a national law firm that specializes in fighting ONLY on behalf of investors. With a 95% success rate, let us help you recover your investment losses today. Call now 1-888-784-3315 or visit InvestmentFraudLawyers.com to schedule a free consultation and learn how our experience can help you recover your investment losses. No recovery, no fee.
Protecting Your Investments
While brokers like Tony Barouti are presumed innocent until proven guilty, these allegations serve as a reminder of the importance of vigilance when it comes to managing your investments. Investors are encouraged to regularly review their account statements, question any unexplained transactions, and report any suspected misconduct to their brokerage firm and FINRA.
Investors who believe they have suffered losses due to broker negligence or misconduct should consult with an experienced securities arbitration attorney. These professionals can evaluate the merits of a potential claim and guide investors through the arbitration process.
In conclusion, the world of finance and investment is not devoid of disputes and allegations. However, systems like FINRA arbitration are in place to ensure that investors have a means to recover their losses and hold brokers accountable for their actions.