Investors Allege Misguidance in Investment Recommendations
In a recent development, investors have raised allegations against Timothy Judson, a broker associated with ROYAL ALLIANCE ASSOCIATES, INC. and OSAIC WEALTH, INC. The claimants allege that two out of many recommended investment products were not in line with their investment needs and objectives. The dispute, currently pending, involves a claim of $100,000.
Judson, registered with BrokerCheck under the CRD number 23131, has been associated with OSAIC WEALTH, INC. since September 2005 and with ROYAL ALLIANCE ASSOCIATES, INC. since November 1989. His role involves the provision of investment advice and the direct investment of DPP & LP interests.
Investors Seek to Recover Losses
Investors are now seeking to recover their losses through FINRA arbitration. The Financial Industry Regulatory Authority (FINRA) is a non-governmental organization that regulates member brokerage firms and exchange markets. The arbitration process is a dispute resolution technique in which a neutral third party (the arbitrator) renders a decision after hearing arguments and reviewing evidence.
The process is faster and less formal than litigation.
It is a cost-effective way to resolve disputes.
The arbitration decisions are final and binding.
Investors who believe they have been wronged can file a claim with FINRA, which then appoints an arbitrator to resolve the dispute. If the arbitrator rules in favor of the investors, the broker or brokerage firm is required to compensate for the losses.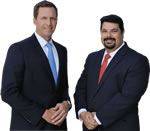 AD - Recover your investment losses! Haselkorn & Thibaut, P.A. is a national law firm that specializes in fighting ONLY on behalf of investors. With a 95% success rate, let us help you recover your investment losses today. Call now 1-888-784-3315 or visit InvestmentFraudLawyers.com to schedule a free consultation and learn how our experience can help you recover your investment losses. No recovery, no fee.
Protecting Investor Interests
This case underscores the importance of investor vigilance and the need for brokers to align their recommendations with the specific needs and objectives of their clients. It also highlights the crucial role of FINRA in protecting investor interests and providing them with a platform to seek redress.
Investors are encouraged to regularly review their portfolios and to seek advice from independent and trusted sources. They should also take note of any changes in their investments that are not in line with their objectives.
As the case with Timothy Judson unfolds, it serves as a reminder to investors to be vigilant about their investments and to not hesitate in seeking redress if they believe they have been wronged.
Investors who believe they have been misled or that their investments have been mishandled should consider seeking legal advice. Legal professionals can provide guidance on the best course of action, which may include FINRA arbitration.
Conclusion
Investment is a crucial aspect of financial planning, and trust in brokers is paramount. Cases like these remind us of the importance of this trust and the mechanisms in place to ensure that investor interests are protected.