On July 6, 2023, Theodore Sarenski, an investment advisor associated with SAGEVIEW ADVISORY GROUP, LLC (CRD 126777), was found to have been rendering investment advice from a location within Florida without being registered by the Office. This discovery was made upon the submission of his advisory registration application for the State of Florida.
Mr. Sarenski was notified that he was not properly registered in the state during his tenure with his prior firms. His pending application was eventually approved by the State of Florida's Office of Financial Regulation, but not without conditions. Mr. Sarenski was required to execute a Consent Agreement and pay an administrative fine as part of the approval process.
Sanctions Imposed
The Florida Office of Financial Regulation imposed several sanctions on Mr. Sarenski. These included:
A cease and desist order, requiring him to halt his unregistered investment advisory activities immediately.
An administrative penalty, in the form of a fine amounting to $13,750.00.
These sanctions serve as a stern reminder to all investment advisors of the importance of proper registration and adherence to regulatory requirements.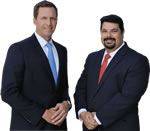 AD - Recover your investment losses! Haselkorn & Thibaut, P.A. is a national law firm that specializes in fighting ONLY on behalf of investors. With a 95% success rate, let us help you recover your investment losses today. Call now 1-888-784-3315 or visit InvestmentFraudLawyers.com to schedule a free consultation and learn how our experience can help you recover your investment losses. No recovery, no fee.
Recovering Losses with FINRA Arbitration
For investors who may have suffered losses due to the actions of unregistered advisors like Theodore Sarenski, there is a ray of hope. The Financial Industry Regulatory Authority (FINRA) offers an arbitration process as a means to recover losses.
FINRA arbitration is a faster, less formal, and less expensive alternative to litigation. It is a dispute resolution process where a neutral third party (an arbitrator) hears the arguments of both parties and makes a decision. This decision can include ordering the payment of monetary damages to the wronged party.
Investors should be aware that they have a limited time to file a claim for arbitration. Therefore, it is crucial to act promptly if you suspect you have been a victim of investment fraud or negligence.
While the arbitration process can be navigated without legal representation, it may be in your best interest to engage an attorney who specializes in securities arbitration. They can guide you through the process and help you present the strongest possible case.
In conclusion, the case of Theodore Sarenski underscores the importance of regulatory compliance in the investment advisory sector. It also highlights the avenues available for investors to recover their losses in cases of investment fraud or negligence.