Surage Roshan Perera, the founder and executive director of Janues Capital Management, has recently been thrust into the spotlight, not for his business acumen, but for his alleged involvement in a multi-million dollar securities fraud scheme. The charges against him include securities fraud, investment advisor fraud, wire fraud, and money laundering.
Perera, a resident of Bellerose, Queens, founded Janues Capital Management, a financial advisory firm. His role as the executive director put him in a position of trust, overseeing the financial assets of his clients. However, recent events have cast a shadow over his professional reputation.
The Securities and Exchange Commission (SEC) charged Perera and his firm on March 27, 2023, with defrauding at least one investor out of millions by lying about investment opportunities and strategies, concealing trading losses, and using funds received from others to give the appearance of successful trading. The SEC has since frozen the assets of the former advisor.
The indictment against Perera includes 16 counts, each detailing the extent of his alleged fraudulent activities. The charges were brought forward in federal court in Central Islip, where Perera was arraigned. The indictment alleges that Perera induced an investor, referred to as Jane Doe, to purchase stock in companies as part of his scheme.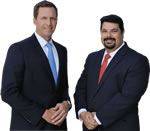 AD - Recover your investment losses! Haselkorn & Thibaut, P.A. is a national law firm that specializes in fighting ONLY on behalf of investors. With a 98% success rate, let us help you recover your investment losses today. Call now 1-888-784-3315 or visit InvestmentFraudLawyers.com to schedule a free consultation and learn how our experience can help you recover your investment losses. No recovery, no fee.
The alleged scheme involved convincing a client that his firm "had a unique investment strategy that would generate high returns with little risk". However, instead of investing the funds as promised, Perera allegedly used the money for personal expenses and to pay off other investors in a classic Ponzi scheme fashion.
The case against Perera underscores the importance of investor vigilance and the need for regulatory bodies to maintain strict oversight over financial advisors. It serves as a stark reminder of the potential pitfalls that can occur when individuals place their trust and financial future in the hands of others without adequate checks and balances.
The charges against Perera are serious and carry significant penalties if he is found guilty. Securities fraud, for instance, can result in hefty fines and imprisonment. Investment advisor fraud, wire fraud, and money laundering also carry severe penalties, including potential jail time.
As of now, Perera's fate lies in the hands of the judicial system. The case serves as a cautionary tale for investors and financial advisors alike. For investors, it underscores the importance of due diligence when entrusting funds to an advisor. For financial advisors, it serves as a stark reminder of the legal and ethical responsibilities they carry in their profession.
In conclusion, the case of Surage Roshan Perera is a significant event in the financial industry, highlighting the potential for fraud even within seemingly reputable organizations. It underscores the importance of regulatory oversight, investor vigilance, and the high ethical standards required of those in positions of trust within the financial sector. As the legal proceedings continue, the financial community will be watching closely, hoping for justice and a resolution that strengthens investor protections.
Free AlphaBetaStock's Cheat Sheet (No CC)!
+ Bonus Dividend Stock Picks