It is another rough day for investors after Facebook's stock cratered more than 20% due to losing users. This however is just one of the many tech stocks that have been down. In addition, investors' fears of a slowing economy and rising inflation are starting to sink in.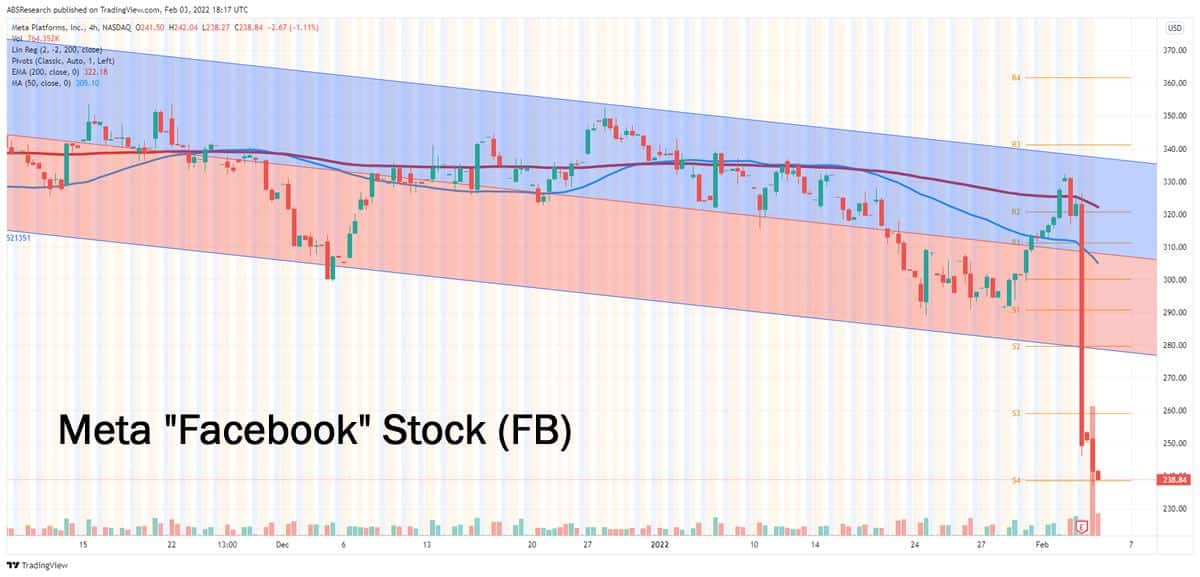 Inflation is at an all-time high that has not been seen since the 1980s. Our supply-chain woes are not ending, and supermarket shelves remain empty. Many say that covid is at the heart of everything. However, I think the root of the problem existed way before Covid. 
You are asking what the problem is? The problem is Fed and government spending. I don't want to get political, but both parties have increased the budget deficit and national debt.
This week the national debt passed $30 TRILLION and was already projected to be over $50 Trillion by 2025, according to US Debt Clock! 
This is what investors need to look at.
Covid spending was like throwing jet fuel on a fire. The chart below shows the M1 Money Supply from the Federal Reserve. 

It shows that a huge amount of money in supply was created in 2020!
We are going to face inflation TSUNAMI in the coming years.
Many market commentators say tech stocks and the market overall are in a "correction." BUT I think they are wrong and we are about to be plunged into another recession. 
Elon Musk, the wealthiest man alive, sold a considerable chunk of Tesla stock and then a month later said on Twitter " that the next recession may be "around spring or summer 2022, but not later than 2023". In an earlier tweet, he wrote, "If history's any guide, many [unicorns] may not make it past the next recession." 
You might wonder if it is time to sell your stocks.
The short answer to your question is No!
An investor must never forget that there are almost always opportunities in the markets, which is still true today.
You don't even have to hunt them down. Instead, we can do all the grunt work for you.
Alpha Beta Stock team monitors more than 4,000 stocks and exchange-traded funds ("ETFs"). We use multiple tools, including AI and old fashion research, to assist us in identifying the most profitable places to invest our money at any given moment.
One sector we are bullish on might surprise you.
These are the old, plain consumer staples stocks. We gave paid subscribers our list of inflation stocks last July!
The prominent players in the investment industry are moving away from growth-oriented, more risky areas of the market, and they are turning to more boring areas, such as consumer staples. This sector contains Procter & Gamble (PG), General Mills (GIS), Pepsi (PEP), and others. 
Let's face it, who is excited about investing in soap and toilet paper, soda, or cereal?
However, investors can rely on the cash-flow stability and predictable sales of many consumer staples businesses as a safety net during a storm. The Power Gauge also sees this. The following chart shows the Consumer Staples Select Sector SPDR Fund (XLP).
AlphaBetaStock's Report helps financial advisor advisors and investors save time, cut through the noise, and outperform through unbiased professional market research. 
Did you like our excerpt and would you like to read the weekly report that has all of the stock picks?
All stock/ETF picks are updated as of January 1st. Click here to view them (Paid Subscribers).
Inflation Stock Picks: List of stocks that we think should perform better in a rising inflation environment.
Auto Parts Stock Picks: Auto parts companies are likely to see their stocks rise as the average age of cars and light trucks increased from 11.9 years in January 2017 to 12.2 years in January 2021, according to new data from IHS Markit. Below are the top auto parts companies that investors should buy now before the profits roll in.
Solid Picks: This group of stock/ETF picks is likely to experience growth and perform well into the near future.
Dividend Stocks: List of stocks that have excellent dividends and business performance.
Dividend Growth Stocks: List of stocks that have a history of growing dividends.
Dividend ETFs Picks: This list of ETFs is selected for their ability to pay dividends.
Dogs of the Dow: This list of DOW stocks based on H. G. Schneider's Article in the Journal of Finance in 1951 that used the price-earnings ratio. The general idea is that blue-chip companies that pay a dividend are more likely to withstand an economic downturn.
Try Alpha Beta Stock Report for 3o days for $19.95 or save over 50% by paying annually for $99.95.
Free AlphaBetaStock's Cheat Sheet (No CC)!
+ Bonus Dividend Stock Picks