Yesterday is the unofficial conclusion of summer. Historically speaking (Pre Covid), most of us would be resuming our regular Tuesday morning work schedules.
This may no longer be true, given the popularity of working from home during the epidemic.
Federal Reserve, Pain and Inflation
Since the Federal Reserve has signaled it is willing to prioritize managing inflation over boosting growth with lower rates, its monetary policy has been in the spotlight on Wall Street.
Many employers have announced layoffs despite a relatively positive August jobs report and an unemployment rate of 3.7%.
On Wednesday, Snap Inc., a social media startup, said it will be laying off 15 percent of its workers. Ford Motor Company, Carvana Co., Netflix Inc., Coinbase Global Inc., Robinhood Markets Inc., and Peloton Interactive Inc. are just some of the other companies that have announced layoffs this year. "
US markets dropped on Friday as the August jobs report failed to alleviate worries about the Federal Reserve's tightening monetary policy.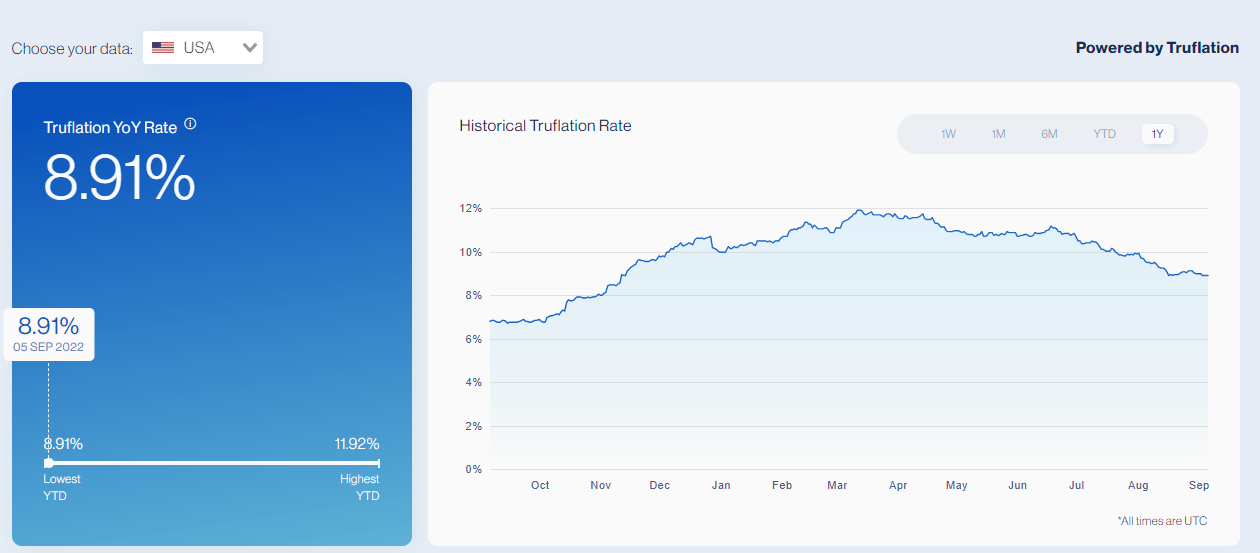 I believe this is a sign the economy is cooling, which could slow down inflation. However, we are far from the 5% unemployment number that I believe the Fed wants.
The good news is we are seeing a drop in inflation to 8.91%. This is still very high but promising.
After seeing the employment statistics, I think the Fed is hesitant to abandon its plan to increase interest rates.
Despite a morning surge, the Nasdaq ended the day with its sixth consecutive loss, along with the other two main averages.
Experts in the market have speculated that this kind of employment growth raises the odds of a rate hike by 75 basis points at the next Fed meeting. The stock market will undoubtedly feel the effects of it.
Officials from the Federal Reserve have indicated that the economy will continue to suffer through 2019. President John Williams of the New York Federal Reserve Bank stated this week that the Federal Reserve needs a "somewhat restrictive policy," that the central bank may still raise interest rates, and that it likely will.
President of the Cleveland Federal Reserve Bank Loretta Mester has stated that she does not expect a Fed shift next year (to rate cutting) and that it will be "difficult" to bring down inflation.
Two times in his address last week, Federal Reserve chairman Jay Powell warned that more hardship was on the way. The goal of Powell's rate hikes is to slow the economy below its potential level without causing a recession. Instead of aiming for a "soft landing," as he had previously hoped, Powell is now planning to slow economic growth, perhaps leading to a mild recession.
The US and China Reach Agreement on Chinese Listed Companies
An auditing agreement for Chinese companies trading on US exchanges has been struck between the US Public Company Accounting Oversight Board (PCAOB) and the China Securities Regulatory Commission (CRSC).
According to experts, the agreement may have a more challenging time being put into practice due to contradictions between the assertions of the US Public Company Accounting Oversight Board and the Canadian Securities Regulation Commission.
The US Securities and Exchange Commission threatened to delist five Chinese companies in March for financial reporting problems. With U.S. audits looming, China delisted its top five state-backed industrial giants last month.
US ordinary investors have been left holding the bag for billions in unaccounted-for losses, while some vast US investment corporations have weathered China's fraud-laced investment market. However, while this agreement is welcome news for Chinese investors, it does little to restore faith in Chinese companies trading on US exchanges.
Amazon Unions
Tech giant Amazon in the United States failed in its attempt to reverse a historic union election in New York City in April. The National Labor Relations Board's ruling that Amazon's complaints should be dismissed is appealable. The e-commerce giant's first union in the United States was formed by workers at a warehouse on Staten Island.
Lowest gas prices since before the invasion of Ukraine.
You may or may not have heard, but gas prices have dropped recently. The story implies that additional relief may be on the horizon due to the ongoing reduction in wholesale gas prices. Gasoline futures in the United States dropped to a multi-year low of $2.5899 per gallon on Wednesday, the lowest price since February 18.
This was before Moscow's invasion of Ukraine triggered a series of sanctions from the United States and its allies. Retail gasoline prices in the United States reached an all-time high of over $5 per gallon in mid-June, primarily due to the rising energy cost, which has been the primary driver of inflation worldwide.
Since there isn't enough spare refining capacity, the price of refined products has gone up, but as we approach winter, gasoline prices have begun to fall because of lower demand.
Key Events, Market Movers & Calendar
Tuesday, September 6 – ISM Non-Manufacturing PMI (August)
Wednesday, September 7 – Beige Book
Fed Talk
On Tuesday, S&P Global will announce the final revised services PMI for August, spotlighting the services sector. The final number for July was lower than the previous month, marking the steepest decline in services sector output since May 2020. The Institute for Supply Management's services index will also be released for August, and it rose from July to August due to increased demand.
On Wednesday, investors will listen in on a live webcast as Cleveland Fed President Loretta Mester discusses monetary policy for the central bank. The global trade gap for July must also be reported, and the -$79.6 billion shortfall in July was less than forecast. In addition, be on the lookout for the Federal Reserve's Beige Book, which is often referred to as the Summary of Commentary on Current Economic Conditions. There are eight installments per year.
Unemployment claims are due on Thursday. The drop to 232,000 from the previous week was unexpected, and we haven't seen numbers that low in nine weeks. The number of layoffs continues to decline relative to past years. After consumer credit grew by 10.5% year-over-year in June, the month's change will also be reported.
July's wholesale stock levels will be reported on Friday. Inflationary pressures on consumers' discretionary spending were reflected in the slow pace at which firms restocked their shelves in June.
Kingsoft Cloud (KC) is a cloud computing company that will release its financial results for the second quarter on Tuesday. On the agenda for Wednesday is GameStop (GME). On display on Thursday is Bilibili, a video-sharing platform established in Shanghai (BILI). Last but not least, ABM Industries (ABM), which provides services related to facilities management, will announce its financial results on Friday.
Considering its current status as a meme stock, GameStop will be an exciting firm to monitor. A movie dubbed "Dumb Money" detailing GameStop's rise and fall as a meme stock in early 2021 was announced last week.
RATES
COMMODITIES
OIL
GOLD & PRECIOUS METALS
CRYPTOCURRENCY
Free AlphaBetaStock's Cheat Sheet (No CC)!
+ Bonus Dividend Stock Picks