U.S. equity markets finished the day higher, with the S&P 500 +1.44%, the Dow +1.20%, the Nasdaq +0.77%, and the Russell 2000 +4.57%. The stock markets rallied to end the holiday-shortened week.
Asian markets rose overnight. Markets played catch up to yesterday's move higher in the U.S. The Bank of Korea left its key interest rate unchanged but said it would expand the range of bonds eligible to be repurchased in its open-market operations. Japanese markets declined as investors worried about the impact of rising coronavirus infections on earnings.
European markets were mixed throughout the day, before ending higher. European Central Bank President Christine Lagarde urged the European Union to resolve political differences and provide stimulus to support the economy. Spain and Italy were said to be preparing to extend lockdowns through the end of April due to the continued rise in coronavirus infections. Italian coronavirus cases rose for the second day in a row, to 4,204, but remained below the March 21 peak.
U.S. markets rose again. President Donald Trump reiterated his desire to reopen the U.S. economy as soon as possible but not until the coronavirus outbreak was under control. Jobless claims came in at 6.6 million last week, above the official estimate from Wall Street, magnifying the damage the coronavirus is doing on the economy. But this was below the unofficial "whisper" number of 7 million claims, so it could be taken as the data is better than feared.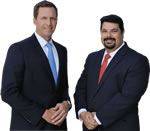 AD - Recover your investment losses! Haselkorn & Thibaut, P.A. is a national law firm that specializes in fighting ONLY on behalf of investors. With a 95% success rate, let us help you recover your investment losses today. Call now 1 888-628-5590 or visit InvestmentFraudLawyers.com to schedule a free consultation and learn how our experience can help you recover your investment losses. No recovery, no fee.
Why the Stock Market is Up
Markets got another tailwind from the Federal Reserve, which announced more support measures for the economy. Russia and Saudi Arabia reportedly agreed to a production cut, with OPEC+ set to remove as much as 20 million barrels per day from the oil market. Hopes for more small business in the support were dashed after Democrats blocked the Republican proposal. Democratic senators want more support for hospitals and state/local governments included in the emergency funding bill.
The Federal Reserve is expanding its asset purchases. And Europe inches closer to a coronavirus stimulus solution.
The top sectors today were financials, real estate, and materials. Newmont Mining (NEM) led the materials sector higher on higher gold prices and a bullish note from analysts at JPMorgan. Wells Fargo (WFC) was among the best performing financials after the Fed eased the bank's lending restrictions. Disney (DIS) jumped after reporting strong subscriber numbers for its Disney+ streaming service.
The worst performing sectors were energy, technology, and health care. Energy fell with oil, on fears that the Russia-Saudi Arabia agreement could fall apart. Diamondback Energy (FANG) and Pioneer Natural Resources (PXD) led this sector lower. AMC Entertainment (AMC) was downgraded by analysts at MKM Partners on rising bankruptcy fears.
In the S&P 500, 10 of the 11 sectors finished higher.
The leading sectors were Financials +5.17%, Real Estate +5.13%, and Utilities +4.73%.
The laggards were Energy -1.12%, Technology +0.02%, and Health Care +0.54%.
Oil -5.94% fell on reports that Mexico objected to the OPEC+ production cuts at the last minute.
Gold +2.97% rose after the Federal Reserve announced it would expand its asset purchase program.
Bitcoin -0.55% gave back some of this week's gains.
Tomorrow, U.S. markets are closed for Good Friday. Next week, we're on the lookout for U.S. Manufacturing, Industrial Production for March, Housing Starts and Building Permits for March, Chinese 1Q GDP, and the start of earnings season with reports from JPMorgan (JPM), Bank of America, Citigroup (C), and Schlumberger (SLB).