In a recent case, a customer dispute against financial advisor Bryce Jones of Merrill Lynch, Pierce, Fenner & Smith Incorporated and Independent Financial Group, LLC (CRD 7717) was filed. The dispute alleged unsuitable investment recommendations and failure to follow instructions in March 2021. However, the claim was denied due to numerous inaccuracies.
Understanding the Dispute
The customer's risk tolerance was conservative, and it was found that the customer was appropriately invested in conservative bonds. All investments held by the customer while Mr. Jones was the Financial Advisor of Record were conservative and appropriately matched the conservative customer profile. The alleged trade request via text was for an aggressive and concentrated equity position, which would not have been suitable for the customer's risk profile.
Interestingly, the text message in question could not be located by either party, cell phone records, or firm records to validate the complaint. It was further revealed that the customer was influenced by outside parties to invest in cryptocurrency, a realm in which Merrill Lynch and Mr. Jones were not involved.
Firm Protocol and Disclosures
According to firm protocol and disclosures, text and voicemail trade requests would not be honored. Therefore, the alleged trade request via text would not have been a valid form of communication for such a transaction. During the tenure of Mr. Jones as the financial advisor, the client made money on conservative investments. However, the client's only losses were under the new advisor or outside unrelated investments. The filed complaint erroneously named Mr. Jones as the responsible party.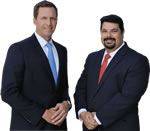 AD - Recover your investment losses! Haselkorn & Thibaut, P.A. is a national law firm that specializes in fighting ONLY on behalf of investors. With a 95% success rate, let us help you recover your investment losses today. Call now 1-888-784-3315 or visit InvestmentFraudLawyers.com to schedule a free consultation and learn how our experience can help you recover your investment losses. No recovery, no fee.
Recovering Losses with FINRA Arbitration
While this case did not favor the customer, it is essential to note that the Financial Industry Regulatory Authority (FINRA) arbitration can be a powerful tool for investors to recover losses. FINRA is an independent, non-governmental organization that regulates member brokerage firms and exchange markets. It operates the largest securities dispute resolution forum in the United States.
Investors who believe they have been wronged can file a complaint with FINRA. The arbitration process is typically faster and less expensive than court litigation. It involves a panel of arbitrators who listen to both sides before making a binding decision. If the panel rules in favor of the investor, the brokerage firm or broker is required to pay damages.
It's important for investors to know their rights and the resources available to them. While not all cases will result in favor of the investor, the FINRA arbitration process provides a viable avenue for dispute resolution and potential recovery of investment losses.