Imagine yourself as a diligent and hardworking investor, who has trusted his money to a financial advisor with a wealth of experience. You have done your research, felt confident about their abilities to manage your portfolio, and performed due diligence. You discover there has been a breach in fiduciary duties. Your advisor placed leveraged ETFs in your account when they shouldn't have been. This is a nightmare, right?
John Ceurvorst, who is a registered financial advisor with Securities America, Inc., and currently works for Pursuit Wealth Management, experienced this with a client. The client claimed a breach in fiduciary duties with the management of his accounts and sought damages of $171,000 Originally filed as a civil matter, the case moved to arbitration where it was settled at $140,000.
What is a breach of fiduciary duty?
Financial advisors who are required to act in clients' best interests fail to do so. Like a trusted physician prescribing harmful medicine to a patient. This breach can cause significant financial loss in the world of finance, as it did with the client of Mr. Ceurvorst.
What can you do in the event that you are faced with a similar scenario?
There is hope for those who feel lost. Financial Industry Regulatory Authority offers arbitration as an alternative to court litigation. It is a more informal, faster and less expensive method of resolving disputes between advisors and investors.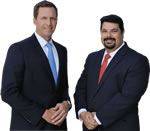 AD - Recover your investment losses! Haselkorn & Thibaut, P.A. is a national law firm that specializes in fighting ONLY on behalf of investors. With a 95% success rate, let us help you recover your investment losses today. Call now 1-888-784-3315 or visit InvestmentFraudLawyers.com to schedule a free consultation and learn how our experience can help you recover your investment losses. No recovery, no fee.
How does FINRA arbitration work?
Imagine FINRA arbitration like a courtroom but without the intimidation. An arbitrator, or panel of neutral arbitrators, hears the case in place of a courtroom judge and jury. The arbitrator decides after both parties have presented their arguments.
FINRA arbitral decisions are binding and final. There is no appeal. It's a bit like a basketball game in which the final score decides the winner. This finality is in the investors' favor if they have lost money due to poor account management.
Interested in finding out more about FINRA's arbitration process? Click here Visit their website.
Can investors recover their losses?
Yes, they are. Arbitration was successful in the case of M. Ceurvorst's client. He recovered $140,000 from his claimed losses. You're like a person who finds a lifeboat on the ocean. It won't get you back where you started but it will help you survive and keep moving forward.
It shouldn't feel like you are gambling with your hard-earned cash when you invest it with a financial adviser. Your advisor should act in your best interests. If you are the victim of a breach in fiduciary duties, you are not alone. FINRA arbitration can help you to navigate through the turbulent waters and recover your losses.
Does it really matter? Absolutely. In the end, money is not everything. It's not just about the money. It is also about justice and accountability. And the assurance that financial institutions have the best interests of their investors in mind.