On November 2020, a dispute was filed by residents of Hawaii against Mr. George Henning and the Pacific Global Investment Management Company (PGIMC). The claimants, whose identities have been redacted for privacy, raised the issue before the Dispute Prevention & Resolution (DPR). The arbitration primarily concerns the alleged mishandling of a request to liquidate a holding in a discretionary PGIMC account managed by Mr. Henning in March 2020. The respondents, however, deny mishandling the request.
The respondents initially filed a counter-petition to compel arbitration in California before the American Arbitration Association (AAA), as required by the claimants' investment management agreement. However, in April 2022, the Circuit Court in Hawaii ruled in favor of arbitration in Hawaii. The arbitration, which will be administered by DPR, has been scheduled for June 2023.
About Pacific Global Investment Management Company
PGIMC has been a significant player in the investment management industry. The company has been associated with Pacific Global Fund Distributors, Inc. since December 1992 up to April 2020. Furthermore, PGIMC has been operating under its current name since August 2003. Mr. Henning, who is a previous broker and investment advisor, has been associated with PGIMC throughout this period.
FINRA's Role in Investor Protection
The Financial Industry Regulatory Authority (FINRA) plays a crucial role in ensuring investor protection. As a not-for-profit organization authorized by Congress, FINRA protects America's investors by ensuring that the broker-dealer industry operates fairly and honestly. This is accomplished through writing and enforcing rules governing the activities of 3,700 broker-dealers with 630,000 brokers, examining firms for compliance with those rules, fostering market transparency, and educating investors.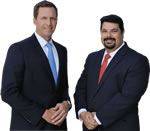 AD - Recover your investment losses! Haselkorn & Thibaut, P.A. is a national law firm that specializes in fighting ONLY on behalf of investors. With a 95% success rate, let us help you recover your investment losses today. Call now 1-888-784-3315 or visit InvestmentFraudLawyers.com to schedule a free consultation and learn how our experience can help you recover your investment losses. No recovery, no fee.
Recovering Losses with FINRA Arbitration
Investors who have suffered losses due to broker misconduct can seek to recover their losses through FINRA arbitration. This process is typically faster and less expensive than traditional litigation and can be an effective method for investors to recover funds.
FINRA arbitration involves a panel of arbitrators who listen to both sides of the dispute and make a decision. The decision of the arbitrators is final and binding, and the parties must abide by it. The process is confidential, and the details of the dispute and the decision are not made public.
Investors who believe they have been wronged can file a claim with FINRA. The claim will then be reviewed, and if it is found to have merit, arbitration proceedings will begin. Investors can represent themselves in these proceedings, or they can hire an attorney to represent them.
In conclusion, while disputes like the one involving Mr. Henning and PGIMC can be complex and drawn out, mechanisms like FINRA arbitration provide a viable avenue for investors to recover losses due to broker misconduct or mishandling of investment accounts.