On May 23, 2023, the Florida Office of Financial Regulation issued a cease and desist order to Eric Thompson, a broker affiliated with PRUCO Securities, LLC. The regulatory body found that Thompson had been providing investment advice within the state of Florida without the necessary registration. This action is a serious violation of the law and has significant implications for both Thompson and his clients.
Violation Details
According to the Financial Industry Regulatory Authority (FINRA), Thompson has been with PRUCO Securities, LLC. (CRD 5685) since February 6, 2006, and concurrently with Prudential Financial Planning Services (CRD 5685) since March 21, 2006. Despite not having the required registration, Thompson continued to offer investment advice to clients, resulting in a breach of trust and potential financial losses for his clients.
In addition to the cease and desist order, the Florida Office of Financial Regulation imposed a civil and administrative penalty of $6,000 on Thompson. This is a significant penalty, reflecting the severity of Thompson's violations.
Investor Protection
Investors who have suffered financial losses due to the actions of unregistered brokers like Thompson have several avenues for recovery. One such avenue is through FINRA's arbitration process.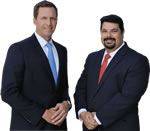 AD - Recover your investment losses! Haselkorn & Thibaut, P.A. is a national law firm that specializes in fighting ONLY on behalf of investors. With a 95% success rate, let us help you recover your investment losses today. Call now 1-888-784-3315 or visit InvestmentFraudLawyers.com to schedule a free consultation and learn how our experience can help you recover your investment losses. No recovery, no fee.
FINRA Arbitration
FINRA operates the largest securities dispute resolution forum in the United States, and it is also the primary method for resolving disputes between brokers and their customers. Arbitration is a faster, simpler, and less expensive alternative to litigation. The process involves an impartial third party, known as an arbitrator, who listens to both sides of the dispute and makes a decision.
Investors who believe they have been wronged can file a claim with FINRA, detailing the nature of their dispute and the losses they have incurred. If the claim is successful, the arbitrator may award damages to the investor to compensate for their losses.
Recovering Losses
Investors who have suffered losses due to the actions of Eric Thompson or any other unregistered broker should consider filing a claim with FINRA. The arbitration process is designed to protect investors and help them recover their losses. It's crucial to act promptly, as there are time limits for filing claims.
Investors should also consider seeking legal advice to help them navigate the arbitration process. A lawyer experienced in securities law can provide valuable guidance and increase the chances of a successful outcome.
Investor protection is a key aspect of the financial industry. Regulatory bodies like the Florida Office of Financial Regulation and FINRA play a critical role in ensuring that brokers and investment advisors comply with the law and act in the best interests of their clients.