Investing can be a thrilling roller-coaster ride. The highs are exhilarating, and the lows can be gut-wrenching. But what happens when the ride takes a turn for the worse, and you're left feeling like you were sold a ticket to a ride you never signed up for? What if you were misled, or critical information was withheld from you? What if your financial advisor failed to conduct reasonable due diligence, or worse, acted negligently?
Such is the case of an investor who attended a retirement planning workshop and was referred to Mr. Heath Goldstein, a representative of Western International Securities, Inc. and 1st Financial Investment, Inc. The investor was sold GWG L Bonds, an investment that eventually filed for Chapter 11 bankruptcy. The investor alleges that there were material facts omitted and not disclosed either at the time of the purchase or during the course of the investment.
Understanding Your Rights as an Investor
As an investor, you have rights. You have the right to accurate and complete information about any investment product being sold to you. You have the right to expect your financial advisor to conduct due diligence on any investment they recommend. And you have the right to pursue legal action if these rights are violated.
But how does one go about recovering losses in such a situation? How do you hold those responsible accountable? And how do you navigate the complex world of financial litigation?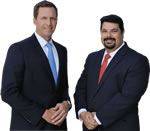 AD - Recover your investment losses! Haselkorn & Thibaut, P.A. is a national law firm that specializes in fighting ONLY on behalf of investors. With a 95% success rate, let us help you recover your investment losses today. Call now 1-888-784-3315 or visit InvestmentFraudLawyers.com to schedule a free consultation and learn how our experience can help you recover your investment losses. No recovery, no fee.
Enter FINRA Arbitration
The Financial Industry Regulatory Authority (FINRA) is a non-profit organization authorized by Congress to protect America's investors. They do this by making sure the broker-dealer industry operates fairly and honestly. One of the ways they do this is through arbitration, a process that resolves disputes between investors and brokers.
Arbitration is more streamlined and typically faster than going to court, and it can often be the most effective way to recover losses due to unsuitable and misleading investment recommendations, misrepresented and omitted material facts and risks, failure to conduct reasonable due diligence, negligence, breach of fiduciary duty, and failure to supervise.
But is it easy? Can you navigate the arbitration process on your own?
The Importance of Legal Representation
Like trying to navigate a maze in the dark, attempting to navigate the FINRA arbitration process without legal representation can be daunting. With the right legal assistance, however, you can shine a light on the path towards recovering your losses.
Legal professionals experienced in FINRA arbitration can help you understand your rights, gather necessary evidence, and present a compelling case. They can guide you through the complexities of the arbitration process, ensuring that your voice is heard and your rights are protected.
So, if you find yourself in a situation where you believe you were misled or deceived in an investment, remember that you have options. You have the right to seek justice and recover your losses. And with the help of the FINRA arbitration process and experienced legal representation, you can navigate the path towards resolution.
Remember, investing is indeed a roller-coaster ride, but you should never feel like you were sold a ticket to a ride you didn't sign up for. And if you do, there are resources and professionals ready to help you seek justice.