In a recent development, a pending customer dispute has been filed against David Geake, a registered broker formerly associated with Madison Avenue Securities, LLC and American Trust Investment Services, Inc. The dispute alleges unsuitable recommendations of alternative investments which has resulted in a staggering loss of $588,000 for the investor. The case is currently under review by the Financial Industry Regulatory Authority (FINRA), a not-for-profit organization authorized by Congress to protect America's investors.
David Geake has been in the securities industry since 1988 and has been registered with Madison Avenue Securities, LLC and American Trust Investment Services, Inc. from September 14, 2018, to May 30, 2023. He is currently associated with American Trust Investment Services Advisory, Inc. since September 17, 2019.
The Role of FINRA in Investor Protection
FINRA is the largest independent regulator for all securities firms doing business in the United States. It is dedicated to investor protection and market integrity through effective and efficient regulation of the securities industry. FINRA, through its comprehensive regulatory oversight, ensures that investors are protected against fraudulent activities and unfair practices.
Recovering Losses through FINRA Arbitration
Investors who have suffered losses due to the misconduct of a broker or a brokerage firm have the right to seek recovery through FINRA arbitration. This is a streamlined process that resolves disputes quickly and is less formal than litigation.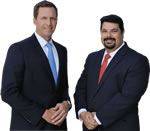 AD - Recover your investment losses! Haselkorn & Thibaut, P.A. is a national law firm that specializes in fighting ONLY on behalf of investors. With a 95% success rate, let us help you recover your investment losses today. Call now 1-888-784-3315 or visit InvestmentFraudLawyers.com to schedule a free consultation and learn how our experience can help you recover your investment losses. No recovery, no fee.
FINRA arbitration allows investors to present their case before a panel of arbitrators who listen to both sides, review the evidence, and then make a decision. If the arbitrators rule in favor of the investor, the broker or the brokerage firm can be ordered to compensate the investor for their losses.
The Importance of Legal Representation in FINRA Arbitration
While FINRA arbitration is designed to be straightforward, it is crucial for investors to have experienced legal representation. A skilled securities arbitration lawyer can help investors understand their rights, gather and present evidence, and advocate for them throughout the arbitration process.
Investors who believe they have been victims of broker misconduct should consult with a securities arbitration lawyer as soon as possible. The lawyer can review the case, provide legal advice, and discuss the possibility of recovering losses through FINRA arbitration.
Investors should remember that they have a limited time to file a claim. Therefore, it is important to act quickly to protect their rights and recover their losses.
Investor protection is at the heart of what FINRA does. By providing a platform for dispute resolution, it helps ensure that the securities industry operates fairly and honestly. Investors who have suffered losses due to broker misconduct can find hope in recovering their losses through FINRA arbitration.