In a recent development, a claimant has alleged that a Financial Advisor (FA) misappropriated funds from the client's accounts spanning over a period from 2008 to 2022. The disputed amount is a staggering $450,000. The case involves Doug McKelvey, a former broker at Morgan Stanley. The case was settled on February 15, 2023, and is currently under review by the Financial Industry Regulatory Authority (FINRA).
About the Case
The claimant, who wishes to remain anonymous, has alleged that Doug McKelvey, who was employed with Morgan Stanley from June 1, 2009, to May 5, 2022, misappropriated funds from the client's accounts. The case, numbered 23-00381, was settled with the client receiving a considerable sum for the losses incurred.
While this is not the first case of its kind, it does highlight the importance of strong regulatory bodies like FINRA in the financial industry. It serves as a reminder to investors to regularly monitor their accounts and report any discrepancies immediately.
Role of FINRA
FINRA plays a crucial role in ensuring the integrity of the American financial system. By enforcing rules and regulations for registered brokers and brokerage firms, FINRA aims to protect investors and maintain fair and honest markets. In cases like this, FINRA investigates the allegations and takes necessary action against the wrongdoers.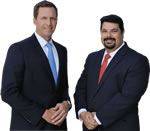 AD - Recover your investment losses! Haselkorn & Thibaut, P.A. is a national law firm that specializes in fighting ONLY on behalf of investors. With a 95% success rate, let us help you recover your investment losses today. Call now 1-888-784-3315 or visit InvestmentFraudLawyers.com to schedule a free consultation and learn how our experience can help you recover your investment losses. No recovery, no fee.
FINRA's BrokerCheck is a free tool that allows investors to check the professional background of brokers and investment advisors. It is an invaluable resource for investors to ensure that they are dealing with reputable and licensed professionals.
Recovering Losses with FINRA Arbitration
Investors who have suffered losses due to broker misconduct can seek recourse through FINRA arbitration. This process is generally faster and less expensive than traditional litigation and can be an effective way to recover losses.
When a dispute arises between an investor and a broker or brokerage firm, the parties can agree to resolve the dispute through arbitration rather than in court. The arbitration process involves a neutral third party, known as an arbitrator, who listens to both sides, reviews evidence, and then makes a decision. The decision of the arbitrator is final and binding on both parties.
In the case of Doug McKelvey, the claimant was successful in recovering a significant portion of the lost funds through FINRA arbitration. This case serves as a beacon of hope for other investors who have suffered similar losses due to broker misconduct.
If you or someone you know has been a victim of broker misconduct, it is essential to report the incident to FINRA and consider the option of arbitration. With the right guidance and support, it is possible to recover losses and ensure that justice is served.