In a recent development, a customer dispute has been settled involving Dharmesh Vora, a registered investment advisor affiliated with Vora Wealth Management, PLLC. The customer alleged unsuitable investment recommendations and an undiversified portfolio. The claim, which was for $800,000, was settled for $175,000.
Vora, who was with Kalos Capital, Inc. from June 2008 to October 2009, has been with Vora Wealth Management, PLLC since April 2011. The advisor has stated that he believes the portfolio was properly in line with the suitability and risk assessment. He denies any wrongdoing. The case number for this dispute is Y22-0201010, as per the records available on the FINRA website.
Understanding the FINRA Arbitration Process
The Financial Industry Regulatory Authority (FINRA) operates the largest securities dispute resolution forum in the United States. It is an independent, not-for-profit organization authorized by Congress to protect America's investors by ensuring that the broker-dealer industry operates fairly and honestly.
When investors feel they have been wronged by their broker or investment advisor, they can file a dispute with FINRA. This dispute can be resolved through arbitration, mediation, or regulatory action. In this case, the dispute was settled through FINRA arbitration.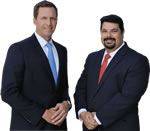 AD - Recover your investment losses! Haselkorn & Thibaut, P.A. is a national law firm that specializes in fighting ONLY on behalf of investors. With a 95% success rate, let us help you recover your investment losses today. Call now 1-888-784-3315 or visit InvestmentFraudLawyers.com to schedule a free consultation and learn how our experience can help you recover your investment losses. No recovery, no fee.
Recovering Losses with FINRA Arbitration
Investors who have suffered losses due to unsuitable investment recommendations or an undiversified portfolio have a chance to recover their losses through FINRA arbitration. This process involves a neutral third party, known as an arbitrator, who listens to both sides, reviews evidence, and then makes a decision.
Arbitration is faster and less formal than a trial, and it can be a cost-effective way for investors to recover their losses. In 2020 alone, FINRA awarded over $64 million in arbitration cases to aggrieved investors.
It's important to note that while arbitration can be an effective means to recover losses, it's not guaranteed. The success of an arbitration claim depends on a variety of factors, including the strength of the evidence, the credibility of the witnesses, and the arbitrator's interpretation of the law.
Protecting Your Investments
Investors should always do their due diligence when choosing a broker or investment advisor. This includes researching the broker's background, understanding the risks involved with the recommended investments, and regularly reviewing account statements for any unauthorized or unusual activity.
If you believe you have been a victim of investment fraud or misconduct, it's important to act quickly. Contact a securities attorney to discuss your rights and options. You may be able to recover your losses through FINRA arbitration.
Remember, the goal of FINRA is to ensure the integrity of the U.S. financial system. By holding brokers and advisors accountable for their actions, FINRA helps protect investors and the markets.