With the ever-increasing complexity of the financial markets, disputes between investors and their brokers or investment advisors are not uncommon. One such recent case involves a registered representative, Clifford Shirah, currently associated with Cabot Lodge Securities LLC and CL Wealth Management LLC. The client alleges that Mr. Shirah recommended an unsuitable investment, leading to a loss of $49,000.
Details of the Dispute
The client lodged the dispute on May 3, 2023, claiming that the investment advice provided by Mr. Shirah was inappropriate for their financial situation and investment goals. The investment in question was related to the oil and gas industry. Mr. Shirah, who was previously associated with Concourse Financial Group Securities, Inc., has been with Cabot Lodge Securities LLC since November 20, 2019, and with CL Wealth Management LLC since February 2, 2023.
The case, bearing the number 23-01202N, is currently pending. The client is seeking compensation for the loss incurred, amounting to $49,000. The dispute is being handled by the Financial Industry Regulatory Authority (FINRA), the largest independent regulator for all securities firms doing business in the United States. For more information about FINRA, you can visit their website here.
FINRA Arbitration: A Way for Investors to Recover Losses
When disputes arise between investors and their brokers or investment advisors, one of the most effective ways to resolve these disputes is through FINRA arbitration. This process involves an impartial third party, known as an arbitrator, who listens to both sides, reviews the evidence, and then makes a binding decision.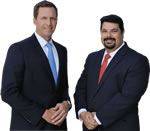 AD - Recover your investment losses! Haselkorn & Thibaut, P.A. is a national law firm that specializes in fighting ONLY on behalf of investors. With a 95% success rate, let us help you recover your investment losses today. Call now 1-888-784-3315 or visit InvestmentFraudLawyers.com to schedule a free consultation and learn how our experience can help you recover your investment losses. No recovery, no fee.
One of the main advantages of FINRA arbitration is that it is generally faster and less expensive than litigation. It also offers a high level of privacy, as the proceedings are not public. Moreover, the process is final and binding, meaning that the parties cannot appeal the decision to a court.
In cases where the arbitrator rules in favor of the investor, the broker or investment advisor is required to pay the awarded amount. This can include compensatory damages, such as the loss incurred due to the unsuitable investment, as well as interest, costs, and attorney's fees.
Protecting Investors' Rights
FINRA plays a crucial role in protecting the rights of investors. By providing a platform for dispute resolution, it ensures that investors have a means to seek redress when they suffer losses due to the misconduct or negligence of their brokers or investment advisors.
Investors who believe they have been wronged can file a dispute with FINRA, either online or by mail. It is advisable to seek legal counsel before proceeding with a dispute to ensure that all relevant facts and evidence are properly presented.
In conclusion, while the financial markets can offer lucrative investment opportunities, they also carry risks. Investors should always do their due diligence and understand the nature of the investments being recommended to them. In the event of a dispute, remember that mechanisms like FINRA arbitration exist to help investors recover their losses.