In a recent development, a pending customer dispute has been lodged against Brian Hamm, a financial professional affiliated with J.W. Cole Financial, Inc. The dispute alleges that Hamm provided inaccurate advice regarding the disbursement of funds from a trust, resulting in additional tax liabilities. The claimant, serving as a trustee, is seeking damages of $150,000. The case is currently under review with the Financial Industry Regulatory Authority (FINRA).
FINRA, the largest independent regulator for all securities firms doing business in the United States, is tasked with protecting investors by ensuring the integrity of the securities industry. This includes monitoring and regulating the actions of brokers and investment advisors, like Hamm, to prevent misconduct and fraud.
The Role of FINRA in Dispute Resolution
FINRA operates the largest securities dispute resolution forum in the United States, and has extensive experience in providing a fair, efficient and effective venue to handle a securities-related dispute. The resolution process is designed to help investors who have suffered losses due to the unethical or illegal actions of their brokers.
Through its arbitration process, FINRA provides a mechanism for investors to recover their losses. The process involves the parties involved presenting their case to a panel of impartial arbitrators who then make a decision regarding the dispute. This decision is binding and final.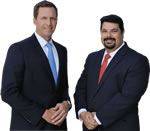 AD - Recover your investment losses! Haselkorn & Thibaut, P.A. is a national law firm that specializes in fighting ONLY on behalf of investors. With a 95% success rate, let us help you recover your investment losses today. Call now 1-888-784-3315 or visit InvestmentFraudLawyers.com to schedule a free consultation and learn how our experience can help you recover your investment losses. No recovery, no fee.
Investors Recovering Losses with FINRA Arbitration
Investors who believe they have suffered losses due to broker misconduct have the right to seek recovery through FINRA arbitration. This process is often faster and less expensive than traditional litigation, making it a viable option for many investors.
Investors can file a claim with FINRA detailing the alleged misconduct and the losses they have suffered. The broker and their firm are then given the opportunity to respond to these allegations. An arbitration panel then reviews the case and makes a decision.
In many cases, investors are able to recover some or all of their losses through this process. The amount recovered depends on a variety of factors, including the nature of the misconduct, the evidence presented, and the financial condition of the broker or firm.
It's important to note that while FINRA arbitration can be a useful tool for recovering losses, it's not suitable for every situation. Investors should consult with a legal or financial advisor before pursuing this course of action.
In the case of Brian Hamm and J.W. Cole Financial, Inc., the arbitration process will be crucial in determining whether the trustee will be able to recover the alleged losses. As the case unfolds, it will serve as a reminder of the importance of the regulatory role that FINRA plays in the financial industry.