In a recent development, a pending customer dispute has come to light involving Shane Desherlia, a broker currently associated with Moloney Securities Co., Inc. and Moloney Securities Asset Management LLC. The dispute pertains to allegations of suitability and negligence during the period of 2018-2020, with the claimant seeking damages amounting to $182,000.
Details of the Dispute
The case, filed under the reference number 23-01821, was brought forward by an investor who alleges that Desherlia acted negligently and failed to ensure the suitability of his investment recommendations. The dispute is currently in a pending status, and Desherlia has refuted the allegations of the claims.
Shane Desherlia has been associated with Moloney Securities Co., Inc. (CRD 38535) since May 24, 2017, and with Moloney Securities Asset Management LLC (CRD 282448) since November 7, 2019. His roles include those of a broker and an investment advisor, with a special focus on corporate debt.
Implications for Investors
This case brings to the forefront the importance of investor vigilance. It also raises questions about the role of brokers and investment advisors in ensuring the suitability of their recommendations. Here are some key points to consider: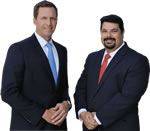 AD - Recover your investment losses! Haselkorn & Thibaut, P.A. is a national law firm that specializes in fighting ONLY on behalf of investors. With a 95% success rate, let us help you recover your investment losses today. Call now 1-888-784-3315 or visit InvestmentFraudLawyers.com to schedule a free consultation and learn how our experience can help you recover your investment losses. No recovery, no fee.
Investors must evaluate the risk profile and suitability of any investment advice they receive.
Brokers and investment advisors have a fiduciary duty to act in the best interests of their clients.
Investors who feel they have been wronged can seek recourse through legal channels, including FINRA arbitration.
Recovering Losses with FINRA Arbitration
The Financial Industry Regulatory Authority (FINRA) provides a platform for investors to resolve disputes with brokers and brokerage firms. This process, known as FINRA arbitration, is quicker and often less expensive than traditional litigation.
Investors who believe they have suffered losses due to broker negligence or unsuitable investment advice can file a claim with FINRA. The arbitration process involves a panel of arbitrators who listen to both parties before making a decision. If the panel rules in favor of the investor, the broker or firm may be ordered to pay damages.
It's worth noting that FINRA arbitration is a binding process. This means that, except in rare circumstances, the decision of the arbitration panel is final and cannot be appealed in court.
Final Thoughts
Investors entrust their hard-earned money to brokers and investment advisors, expecting them to act in their best interests. When this trust is breached, it's crucial that investors know their rights and the avenues available for recourse. This case serves as a reminder of the importance of investor vigilance and the role of regulatory bodies like FINRA in protecting investor rights.