SEC Lands Heavy Blow on Unregistered Brokers: A Tale of Crypto Fraud
Imagine a spider weaving a web, waiting for unsuspecting flies to get caught. This is the metaphor that comes to mind when describing the fraudulent activities of Chicago Crypto Capital LLC (CCC), its owner Brian Amoah, and former salesman Elbert "Al" Elliott. The Securities and Exchange Commission (SEC) has finally swatted this spider, obtaining default judgments against these unregistered brokers. But what led to this?
The Web of Deceit
According to the SEC's allegations, from August 2018 through November 2019, CCC, Amoah, and Elliott played the role of unregistered brokers. They conducted an unregistered offering of BXY tokens, a type of crypto asset. Picture an auctioneer selling items without a license, and you have a pretty clear image of what was going on. They managed to raise at least $1.5 million from approximately 100 individuals, many of whom were novices in the crypto asset investment world.
But what's the catch? The SEC complaint alleged that the defendants made materially false and misleading statements about the BXY tokens. They misled investors about the custody and delivery of BXY, the markup charged by CCC, the delivery of account statements, CCC's liquidation of an investor's BXY, their personal investments in BXY, and the financial and management problems at Beaxy Digital Ltd., the issuer of BXY. It's like selling a car while hiding the fact that the engine is faulty.
The Judgement Hammer Falls
The U.S. District Court for the Northern District of Illinois has finally brought down the hammer. On May 10, 2023, the court entered final judgments against the defendants. They are now barred from violating several sections of the Securities Act of 1933 and the Securities Exchange Act of 1934. Think of it as a quarantine, keeping them away from any offering of crypto asset securities.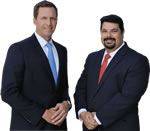 AD - Recover your investment losses! Haselkorn & Thibaut, P.A. is a national law firm that specializes in fighting ONLY on behalf of investors. With a 95% success rate, let us help you recover your investment losses today. Call now 1-888-784-3315 or visit InvestmentFraudLawyers.com to schedule a free consultation and learn how our experience can help you recover your investment losses. No recovery, no fee.
Moreover, these injunctions do not prevent them from buying or selling any crypto asset security for their personal accounts. However, Amoah has been barred from acting as an officer or director of a public company. It's like a disqualified driver, no longer allowed to get behind the wheel.
The Cost of Deceit
Deceit comes with a price tag. The judgments order Amoah and CCC to pay jointly and severally disgorgement of $935,599.65, plus prejudgment interest of $136,087.10. Elliott has to pay disgorgement of $21,777.64, plus prejudgment interest of $3,167.66. Additionally, civil penalties have been imposed: $1,339,368 on CCC, $245,553 on Amoah, and $133,938 on Elliott. It's like a hefty fine for a speeding ticket, only much, much larger.
The SEC's investigation was spearheaded by Peter Senechalle and Devlin N. Su, with assistance from Craig McShane. The operation was supervised by Amy Flaherty Hartman of the SEC's Chicago Regional Office. This case is a stark reminder that in the world of crypto assets, it's crucial to tread carefully and ensure that all dealings are above board.