Recent report by the U.S. Securities and Exchange CommissionSEC( has expressed concerns over the practice of including arbitration clauses that are mandatory in contracts with clients of registered investment advisors. The report, released by the U.S. House Committee on Appropriations suggests that these clauses may limit clients' ability to seek legal recourse in case of dispute.
Due to insufficient disclosure requirements, however, the SEC could not fully gauge the scope of the issue. SEC staff was prevented from examining a complete data set, or a sample of clients in arbitration proceedings due to existing disclosure requirements. Eight external stakeholder organizations were contacted for their insights on how mandatory arbitration affects consumers. These groups had been identified as having information relevant to the issue or publicly expressed their opinion.
SEC attempted to look into how arbitration awards that were not paid are resolved, but found the same lack of information. In the report, it is noted that private dispute-resolution forums do not keep track of information regarding unpaid arbitration awards. Private arbitrators also do not have any authority over parties after they issue an award. Due to this, unpaid award disputes must be litigated before the courts.
Hugh Berkson expressed his frustration at the lack of data. Berkson, in 2021, published a study claiming that 30% of arbitral awards are not paid. Along with PIABA he pushed for SEC involvement.
According to the SEC report, approximately six out of 10 registered investment advisors (RIAs), include arbitration mandates as part of their contracts with clients. The report concluded that many of these mandates are limited in scope and could discourage clients from seeking restitution. Sometimes, the requirement was part of another contract, and was written in ambiguous language.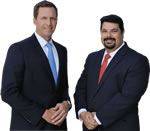 AD - Recover your investment losses! Haselkorn & Thibaut, P.A. is a national law firm that specializes in fighting ONLY on behalf of investors. With a 95% success rate, let us help you recover your investment losses today. Call now 1-888-784-3315 or visit InvestmentFraudLawyers.com to schedule a free consultation and learn how our experience can help you recover your investment losses. No recovery, no fee.
The report highlighted that clients may also be concerned about the location or arbitration forum, as this can result in expensive fees and travel costs for them, potentially discouraging them from pursuing legal recourse.
The SEC also found that almost one-fifth (25%) of contracts with arbitration mandates included fee-shifting clauses, which require the losing party pay all legal costs, hedge clauses, which can limit advisors' liability, and prohibitions against disclosure of settlements. Many of these agreements may mislead their clients into thinking that they are limited in their ability to pursue legal remedies.
Joseph Peiffer – the PIABA's incoming president – called the findings a "double whammy for American investors." He called on the SEC act to stop advisors from inserting fine print in contracts to prevent investors from seeking justice.
The SEC agreed that these terms could increase arbitration costs for clients and many of them are not permitted in other dispute resolution forums.
The report stated that over the past decade the number of SEC registered advisors, who serve 64.7 millions clients, has increased by 44%. This increase of advisers and their clients could result in an increase of adviser arbitrations.
The report concluded, that for many advisory customers, the mandatory arbitration clauses of advisory agreements means that arbitration is their only option to recover financial damages caused by their advisors. The report suggested that more evaluation was needed to determine whether arbitration is a cost-effective and accessible dispute resolution method for advisory clients.