Securities and Exchange CommissionSEC( ) filed charges of insider trading against Brian Wong, Secaucus New Jersey. Wong has been accused of trading based on insider information from his brother Brandon Wong. The SEC previously charged Brandon Wong in July 2022 with insider trading. His source was Seth Markin.
According to SEC's complaint, Brian Wong allegedly gained around $400,000 through illegal trading, before Merck & Co., Inc. announced its tender offer for Pandion Therapeutics, Inc., in February 2021. The SEC complaint claims that Brandon Wong shared confidential information with Brian Wong about Merck's impending acquisition. Brian Wong purchased Pandion stocks based on this information. Brandon Wong received the tip from Seth Markin. Markin had gotten the information from Seth's romantic partner who was an attorney involved in this deal.
In the SEC's lawsuit, Brian Wong is accused of violating antifraud provisions of Securities Exchange Act of 1939. They are seeking civil monetary sanctions, injunctive relief and disgorgement of prejudgment. Brian Wong has agreed to injunctive measures, pending court approval. The monetary remedies will be determined at a later date.
The SEC Market Abuse Unit Analysis and Detection Center initiated the case, using data analysis tools to identify suspicious trade patterns. In a separate action, the U.S. Attorney's Office of Southern District of New York brought criminal charges against Brian Wong.
The SEC investigation is still ongoing. Members of the Market Abuse Unit, as well as the New York Regional Office have been conducting it. The SEC thanks the U.S. Attorney's Office for the Southern District of New York as well as the Federal Bureau of Investigation and the Office of Inspector General of the U.S. Department of Justice.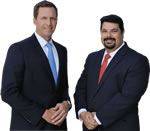 AD - Recover your investment losses! Haselkorn & Thibaut, P.A. is a national law firm that specializes in fighting ONLY on behalf of investors. With a 95% success rate, let us help you recover your investment losses today. Call now 1-888-784-3315 or visit InvestmentFraudLawyers.com to schedule a free consultation and learn how our experience can help you recover your investment losses. No recovery, no fee.
This article highlights the SEC charges of insider trading against Brian Wong, a Secaucus resident from New Jersey. Wong is accused trading on information that was provided to him by Brandon Wong who received it from Seth Markin. The SEC claims that Brian Wong earned significant profits by trading before Merck announced its acquisition of Pandion Therapeutics. The SEC wants to bring legal action against Brian Wong. Additionally, the U.S. Attorney's Office filed criminal charges. The SEC thanks the agencies for their cooperation in this investigation.
SEC
Securities and Exchange Commission is an American regulatory agency that supervises and enforces federal security laws. Its main mission is to protect and promote investors, ensure fair and efficient markets and facilitate capital formation. The SEC accomplishes this by regulating all securities industries, including stock exchanges. broker-dealers. investment advisors. and mutual funds. The SEC ensures that companies give accurate and timely information, investigates possible securities violations and takes enforcement action when necessary. SEC plays an important role in promoting financial transparency, as well as setting accounting standards. The SEC's ultimate goal is to increase confidence and trust in U.S. Securities Markets and to ensure that all investors have fair and equal information.