The Securities and Exchange Commission filed a complaint on behalf of former executives from the Las Vegas based nutritional supplement company MusclePharm Corp. The SEC filed a complaint against former executives of the Las Vegas-based nutritional supplement company MusclePharm Corp. These practices were carried out, according to the complaint, in order to meet the revenue growth demands of the former CEO of this company, Ryan C. Drexler. Drexler was also charged separately by the SEC with fraud in connection with disclosure violations and failures to control.
According to the SEC complaint, Casutto & Zucco participated in a fraud scheme to recognize revenue for orders while they were still under MusclePharm control. According to the SEC complaint, Harris should have been aware that certain revenues were being recognized prematurely and that other revenue was overstated by the company because customer credits were misclassified as advertising costs instead of revenue reductions. The SEC asserts that this misconduct caused the company to inflate its publicly reported quarterly revenue by as much as 25% and gross profit by up to 49 percent.
The SEC claims that Drexler misled investors regarding the impact of the default by the company with its institutional noteholders when he was the CEO. The SEC alleges that Drexler falsified his certification that he had evaluated the company's controls.
Casutto Zucco and Harris each consented for judgments to be entered without admitting or disputing the SEC's accusations. Casutto, Zucco, and Harris are permanently prohibited from violating securities law antifraud laws if the proposed judgments are approved by the court. The proposed judgements also impose a number of additional injunctions to the defendants. This includes violations of provisions relating to books and records and control, reporting as well as proxy solicitation. Casutto, Zucco and Harris have agreed to pay disgorgement and prejudgment interests. Casutto is also barred from serving as an executive or director for a public company for five years under the judgments.
Drexler has been charged with violations of antifraud provisions as well as reporting and control provisions as well as proxy solicitation. He is charged with aiding MusclePharm in its reporting and control violations as well as violating the clawback provisions of the Sarbanes Oxley Act of 2003. In its complaint, the SEC seeks injunctive remedies, civil penalties, reimbursements to MusclePharm pursuant to Sarbanes-Oxley Act and an bar on officers and directors.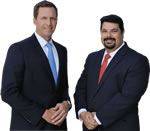 AD - Recover your investment losses! Haselkorn & Thibaut, P.A. is a national law firm that specializes in fighting ONLY on behalf of investors. With a 95% success rate, let us help you recover your investment losses today. Call now 1-888-784-3315 or visit InvestmentFraudLawyers.com to schedule a free consultation and learn how our experience can help you recover your investment losses. No recovery, no fee.
The U.S. District Court of Central District of California has received both complaints. Jennifer Turner and Michael D'Angelo conducted the SEC's probe, which was supervised by Mary Brady and Nicholas Heinke. Zachary Carlyle, Sharan Lieberman, and Gregory Kasper supervise the litigation.
Recover Investment Losses
Are you experiencing investment losses? You should consult an expert if you are experiencing investment losses. investment fraud attorney. Haselkorn & Thibaut are a highly reputable and specialized law firm in investment fraud. Their attorneys are highly experienced in securities litigation, arbitration and other areas of law. They dedicate themselves to helping clients get the justice and compensation that they deserve.
Haselkorn & Thibaut, with a 98% success rate and millions of dollars recovered by investors, is the best choice for investors who are looking for legal remedies to recover their investment losses.
You should act quickly if you believe you've been a victim of an investment fraud. The firm's investment fraud lawyers will assess the case and help you determine how to recover losses. Also, it's important to know that there won't be a fee if you don't recover.
Contact Haselkorn & Thibaut today for a free consultation at 1-888-784-3315 or website at InvestmentFraudLawyers.com.
SEC
Securities and Exchange Commission is the regulatory agency of the United States that enforces federal securities laws and protects investors. The Securities and Exchange Commission (SEC) was founded in 1934 as a response to the 1929 stock market crash and Great Depression. The SEC has three primary missions: to promote capital formation and investor confidence, ensure fair and transparent market conditions, and ensure fair and open markets.
The SEC accomplishes its goals in a variety of ways, including by regulating and overseeing the securities industry, enforcing laws on securities, and supervising stock exchanges. It is required that companies provide accurate financial information, so investors can make informed investments. The SEC also conducts investigations and takes legal actions against individuals or companies involved in fraudulent or misleading practices within the securities markets.
The SEC also plays an important role in regulating investment advisers, funds and other financial professionals. The SEC sets standards and rules to protect investors, and ensure fair business practices in the industry. The SEC educates and informs investors, and provides resources and guidelines that help individuals make informed decisions about their finances.
The Securities and Exchange Commission, as a regulatory body, is responsible for maintaining the integrity of the US securities market, protecting investors and promoting a fair and transparent system.
Find out more about