The Securities and Exchange Commission (SEC) has barred Ronald E. Filoramo, a former broker at Morgan Stanley, after he allegedly misappropriated $761,000 from two clients, gambling it away at casinos. This incident, which spanned from 2017 to 2021, involved Filoramo convincing clients to redirect funds under the guise of purchasing high-yield bonds, only to funnel them through a friend's account and subsequently use them for personal expenses, primarily gambling.
The Unveiling of a Scheme
How Did Filoramo Execute His Plan?
Ronald E. Filoramo, with a career spanning 23 years, managed to execute a fraudulent scheme that went unnoticed for several years. He:
Convinced Clients: Persuaded two clients to transfer funds for what was presented as a lucrative investment in high-yield bonds.
Used a Third Party: The funds were sent to a third party, who was actually a friend of Filoramo, and then transferred to the broker.
Gambled the Money Away: The money, instead of being invested, was spent on gambling and related expenses.
Covered His Tracks: Filoramo provided the clients with fake account statements to mask his deceit.
What Led to His Downfall?
Filoramo's scheme began to unravel when his wife contacted Morgan Stanley in early 2023, expressing concerns about his whereabouts. This prompted an investigation, which eventually led to his firing in May due to allegations of fraudulently inducing client fund transfers to non-existent investments.
Consequences and Repercussions
What Were the Ramifications for Filoramo?
Barred by SEC: The SEC has barred Filoramo from associating with any broker, dealer, investment adviser, municipal securities dealer, municipal advisor, transfer agent, or nationally recognized statistical rating organization.
Legal Consequences: He reached a partial settlement with the SEC and was ordered to pay an unspecified amount in disgorgement, prejudgment interest, and civil penalties.
Career Impact: Filoramo, who began his career in 1999 and worked at various reputable financial institutions, now has a tarnished reputation in the industry.
How Has Morgan Stanley Responded?
Morgan Stanley has expressed a strong commitment to protecting client assets and acting swiftly when allegations of this nature arise. The firm has: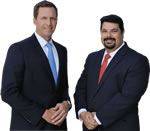 AD - Recover your investment losses! Haselkorn & Thibaut, P.A. is a national law firm that specializes in fighting ONLY on behalf of investors. With a 95% success rate, let us help you recover your investment losses today. Call now 1-888-784-3315 or visit InvestmentFraudLawyers.com to schedule a free consultation and learn how our experience can help you recover your investment losses. No recovery, no fee.
Terminated Filoramo's Employment: He was fired in May, and the matter was reported to law enforcement.
Addressed Client Concerns: Morgan Stanley is working with the impacted clients and has already amicably resolved the claims of one of the two clients mentioned in the SEC complaint.
Reflecting on Ethical Practices in the Financial Industry
How Can Such Incidents Be Prevented in the Future?
Stricter Oversight: Implementing more rigorous oversight of broker activities and transactions.
Enhanced Verification: Establishing robust verification processes for investment opportunities presented to clients.
Client Education: Educating clients on red flags and ensuring they verify investment opportunities independently.
What Does This Incident Reveal About the Importance of Ethical Conduct?
This incident underscores the critical importance of ethical conduct in the financial industry. Trust is paramount in client-broker relationships, and when that trust is violated, it not only impacts the individuals involved but also tarnishes the reputation of the institutions they represent and the industry at large.
Conclusion
The case of Ronald E. Filoramo serves as a stark reminder of the potential pitfalls in the financial industry, where large sums of money and trust are constantly at play. It brings to the forefront the importance of stringent oversight, transparency, and ethical conduct, safeguarding both clients and the reputation of financial institutions.