Today, the Securities and Exchange Commission unveiled charges against GA Investors and Anonymous Individuals known as John Does 1- 4. The charges stemmed from allegations that securities, such as crypto asset mining pools and other fraudulent securities, were offered through a variety of websites. The SEC has requested an order mandating the shutdown of fraudulent websites. What does this mean in the world of cryptocurrency assets? Let's get started.
What has happened?
The SEC complaint states that the defendants were offering investments on dozens fraudulent websites, such as GA-Investors.org. These websites advertised high returns for investing in securities, up to 61.9% per day. Imagine your investment increasing by more than half in just one day. The SEC says it's a scam.
The Deception
In addition, the complaint alleges that the websites not only made false promises but also impersonated legitimate businesses, including a broker-dealer registered with the SEC. It's like a wolf wearing sheep's clothes, tricking unsuspecting people into their trap. The defendants, according to reports, solicited global investors, including Americans, who collectively deposited approximately $85,000 with GA Investors in their fraudulent securities offering.
GA Investors' website offered daily guaranteed returns between 2% and 4.5%. Investors were told to buy crypto assets through a separate platform that traded crypto assets, and transfer the assets to a GA Investors address. Investors were reportedly frozen out of larger portions of their funds when they tried to withdraw them. The virtual world is the equivalent of a modern bank robbery.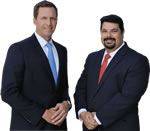 AD - Recover your investment losses! Haselkorn & Thibaut, P.A. is a national law firm that specializes in fighting ONLY on behalf of investors. With a 95% success rate, let us help you recover your investment losses today. Call now 1-888-784-3315 or visit InvestmentFraudLawyers.com to schedule a free consultation and learn how our experience can help you recover your investment losses. No recovery, no fee.
The Charges and the Consequences
In its complaint, filed before a federal court in Massachusetts by the SEC, it accuses GA Investors and John Does 1 – 4 of violating Section 17(a), Section 10(b), Securities Act of 1933 (and Rule 10b-5 thereof) as well as the antifraud provision of Section 10b-5 of Securities Exchange Act of 1933. The SEC wants a temporary restraining, asset freezing, and other emergency measures against the defendants. The complaint seeks permanent injunctive measures, disgorgement and prejudgment interest of gains ill-gotten, civil monetary sanctions, and permanent injunctive actions.
Investor Alerts
The Office of Investor Education and Advocacy of the SEC (OIEA), has released alerts to warn investors of fraudulent crypto trading sites and crypto investment schemes.
OIEA and FBI jointly warn investors of fraudsters who impersonate or falsely claim that they are registered investment professionals. This is done to lure investors to scams.
A team from SEC Boston Regional Office investigated this case. This case shows that the world of cryptoassets can be wild west. However, there is a sheriff watching.