On April 18, 2023, a client lodged a pending customer dispute against Dean Paugh, a broker and investment advisor associated with Raymond James & Associates, Inc. The client alleged that the investments made on their behalf were not suitable, with the dispute activity dates ranging from January 1, 2021, to April 18, 2023. The disputed amount is reported to be $109,542.01.
Understanding the Allegations
The allegations revolve around the suitability of investments. Suitability refers to the requirement for brokers and investment advisors to recommend investments that align with the financial goals, risk tolerance, and financial situation of the client. The dispute suggests that the client believes the investments made by Dean Paugh did not meet these criteria.
Dean Paugh's Background
Dean Paugh is both a broker and an investment advisor, with a focus on Debt-Asset Backed investments. He has been associated with Raymond James & Associates, Inc. (CRD 705) since February 13, 2013. The firm has a second record of his association dating from October 31, 2014. The nature of these two records is unclear.
Raymond James & Associates, Inc.
Raymond James & Associates, Inc. is a well-known financial services firm. However, like all firms, it is subject to regulatory oversight and must adhere to industry rules and regulations. These regulations are enforced by the Financial Industry Regulatory Authority (FINRA), a non-governmental organization that regulates member brokerage firms and exchange markets. More information about FINRA can be found on their website here.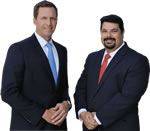 AD - Recover your investment losses! Haselkorn & Thibaut, P.A. is a national law firm that specializes in fighting ONLY on behalf of investors. With a 95% success rate, let us help you recover your investment losses today. Call now 1-888-784-3315 or visit InvestmentFraudLawyers.com to schedule a free consultation and learn how our experience can help you recover your investment losses. No recovery, no fee.
Recovering Losses with FINRA Arbitration
For investors who believe they have suffered losses due to unsuitable investments or other misconduct by their broker or investment advisor, FINRA offers an arbitration process. This process is often faster and less expensive than traditional litigation.
Through FINRA arbitration, investors can seek to recover their losses. The process involves presenting the case to a panel of arbitrators, who then make a binding decision. Investors should prepare by gathering all relevant documents and evidence related to their investments and the disputed actions.
It's important to note that there are deadlines for filing a claim, so investors should act promptly if they believe they have a case. Additionally, investors may want to seek legal counsel to guide them through the process and represent their interests.
While the outcome of the pending customer dispute against Dean Paugh is yet to be determined, it serves as a reminder of the importance of suitability in investment decisions and the recourse available to investors through FINRA arbitration.