In a recent customer dispute, a claim was made against Daniel Loy, a broker at Voya Financial Advisors, Inc., and currently with Independent Financial Group, LLC. The customer alleged that between 2013 and 2015, alternative investment products were misrepresented as providing more diversification, being safe and suitable investments, and promising a return of principal generally between three and five years.
Dispute Details
The claimant sought damages amounting to $1,500,000.00, with the dispute eventually settling for $370,000.00. Despite the settlement, it is important to note that the settlement is not to be deemed an admission of guilt or liability on the part of Daniel Loy. The claim was settled and dismissed with prejudice in the interest of avoiding significant costs and time associated with the defense of this matter.
According to account documents and information related to the claim, the investments made were in line with the claimant's stated investment objectives, risk tolerance, and time horizon. Furthermore, the claimant received and acknowledged receipt of documents that clearly and accurately disclosed the risks associated with the investments made.
Investor's Perspective
From an investor's perspective, it is crucial to understand that not all investments will perform as expected or anticipated. The claimant, in this case, cherry-picked investments that did not perform as expected and failed to acknowledge that they had profited from other similar investments in the past. Even though some investments did not meet expectations, the overall portfolio was still profitable.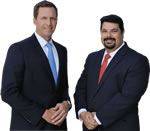 AD - Recover your investment losses! Haselkorn & Thibaut, P.A. is a national law firm that specializes in fighting ONLY on behalf of investors. With a 95% success rate, let us help you recover your investment losses today. Call now 1-888-784-3315 or visit InvestmentFraudLawyers.com to schedule a free consultation and learn how our experience can help you recover your investment losses. No recovery, no fee.
FINRA's Role
The Financial Industry Regulatory Authority (FINRA) plays a vital role in regulating brokerage firms and their registered representatives. It is a non-governmental organization that acts to protect investors and ensure the integrity of the market. For more information about FINRA, you can visit their official website here.
Recovering Losses with FINRA Arbitration
Investors who believe they have been wronged by their brokers can recover their losses through FINRA arbitration. This process involves an impartial third party, known as an arbitrator, who listens to both sides of the dispute and makes a decision. The arbitrator's decision is final and binding.
FINRA arbitration is a quicker and less formal process than court litigation, making it a preferred choice for many investors. It's also less expensive, and the process is confidential, which can be a significant advantage for individuals and firms alike.
If you believe you have a claim against your broker or brokerage firm, it's important to act quickly. FINRA has a six-year eligibility rule for bringing a claim, which begins on the date of the event or occurrence giving rise to the claim.
In conclusion, while investing involves risks, investors have mechanisms in place to seek redress in cases of misrepresentation or misconduct. FINRA arbitration is one such mechanism, providing a platform for investors to recover their losses.