Recently, a customer dispute was settled involving Dharmesh Vora, a financial advisor with Vora Wealth Management, PLLC. The customer alleged that Vora made unsuitable investment recommendations and maintained an undiversified portfolio, leading to significant losses. The claim, initially amounting to $300,000, was settled for $210,000. The advisor, however, maintains that the portfolio was in line with the suitability and risk assessment and denies any wrongdoing.
Background of the Dispute
Dharmesh Vora was associated with Kalos Capital, Inc. from June 30, 2008, to October 1, 2009. Since April 4, 2011, he has been with Vora Wealth Management, PLLC. The customer dispute, filed under CRD number 2629494, alleges that the investment recommendations made during his time at both firms were unsuitable and that the portfolio was not diversified enough. These allegations, if proven, could violate FINRA rules and regulations.
The Role of FINRA
The Financial Industry Regulatory Authority (FINRA) is a non-governmental organization that regulates member brokerage firms and exchange markets in the United States. It is dedicated to investor protection and market integrity through effective and efficient regulation of the securities industry. FINRA achieves this through the enforcement of its rules and the federal securities laws. In cases like this, FINRA provides an arbitration platform for dispute resolution.
Settlement and Advisor's Stand
In this case, the dispute was settled with the customer receiving $210,000. However, it is important to note that the advisor, Dharmesh Vora, has denied any wrongdoing. He believes that the portfolio was properly in line with the suitability and risk assessment. This highlights the complexity of such disputes, where the understanding and interpretation of investment suitability can vary between the advisor and the client.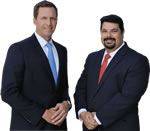 AD - Recover your investment losses! Haselkorn & Thibaut, P.A. is a national law firm that specializes in fighting ONLY on behalf of investors. With a 95% success rate, let us help you recover your investment losses today. Call now 1-888-784-3315 or visit InvestmentFraudLawyers.com to schedule a free consultation and learn how our experience can help you recover your investment losses. No recovery, no fee.
Recovering Losses with FINRA Arbitration
Investors who believe they have been wronged by their financial advisors or brokers can recover their losses through FINRA arbitration. This process involves presenting the case before a panel of arbitrators who listen to both parties, review evidence, and then make a decision. The arbitration decision is final and binding, with limited rights of appeal.
FINRA arbitration is generally faster and less expensive than court litigation, making it a preferred choice for many investors seeking to recover their losses. It is, however, essential for investors to understand that arbitration requires thorough preparation and presentation of evidence to prove their claim.
Investors are advised to consult with legal professionals experienced in securities arbitration to maximize their chances of recovering losses. Through diligent investigation and strong representation, investors can hold advisors and brokers accountable for unsuitable investment recommendations and other forms of misconduct.