Investors who have incurred financial losses due to unsuitable recommendations and misrepresentation of an options overlay strategy are seeking legal recourse. The allegations, which span from early 2018 to September 2019, involve UBS Financial Services Inc. and their broker, Russell Rabito.
Details of the Dispute
The dispute, which is currently pending, alleges that Rabito and UBS Financial Services Inc. provided unsuitable advice and misrepresented an options overlay strategy to their clients. The claimants allege that the recommendations to invest in and hold this particular strategy were not in their best interest, leading to significant financial losses.
Russell Rabito, who has been with UBS Financial Services Inc. since August 1994, is also an investment advisor and has an in-house wrap fee. The case number for this dispute is 23-01967N1010N.
Recovering Losses with FINRA Arbitration
Investors who have suffered losses due to unsuitable recommendations or misrepresentation can recover their losses through FINRA arbitration. The Financial Industry Regulatory Authority (FINRA) provides a platform for investors to resolve disputes with brokers and brokerage firms.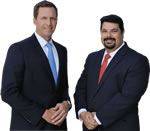 AD - Recover your investment losses! Haselkorn & Thibaut, P.A. is a national law firm that specializes in fighting ONLY on behalf of investors. With a 95% success rate, let us help you recover your investment losses today. Call now 1-888-784-3315 or visit InvestmentFraudLawyers.com to schedule a free consultation and learn how our experience can help you recover your investment losses. No recovery, no fee.
FINRA Arbitration is a quicker, less formal, and less expensive alternative to court litigation. It is a fair and efficient process where disputes are resolved by a neutral third party.
Investors can file a claim irrespective of the size of their claim. The process is confidential and the decisions are final and binding.
Investors can claim for actual losses, interest, costs, and in some cases, punitive damages.
Investors are encouraged to seek legal advice before proceeding with FINRA arbitration. Legal professionals can provide guidance on the process, help prepare the case, and represent the investor during the proceedings.
Conclusion
Investors trust their brokers and financial advisors to provide suitable advice that aligns with their financial goals. When this trust is breached, it can lead to significant financial losses. Through FINRA arbitration, investors can seek to recover these losses.
It is important for investors to know their rights and options when they have been wronged. The case involving Russell Rabito and UBS Financial Services Inc. serves as a reminder that investors can and should seek justice when they have suffered financial losses due to unsuitable or misrepresented investment advice.