In a recent development, a significant customer dispute has come to light, involving a well-known name in the financial sector, Russell Rabito, and his association with UBS Financial Services Inc.
The dispute pertains to the time frame of late 2017 to 2019, during which the claimants allege that they were subjected to unsuitability and misrepresentation in terms of recommendations to invest in and hold an options overlay strategy. This strategy is typically employed by investors to generate income or hedge against market risks, but it appears that the claimants have faced substantial losses due to the advice they received.
Details of the Dispute
Russell Rabito, a broker and investment advisor, has been associated with UBS Financial Services Inc. since August 1994. The company, with CRD 8174, has been the subject of several customer disputes over the years. However, this recent case, identified as 23-02003N1010N in the BrokerCheck, stands out due to the severity of the allegations involved.
The key allegations in this case are: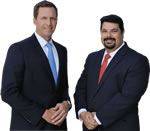 AD - Recover your investment losses! Haselkorn & Thibaut, P.A. is a national law firm that specializes in fighting ONLY on behalf of investors. With a 95% success rate, let us help you recover your investment losses today. Call now 1-888-784-3315 or visit InvestmentFraudLawyers.com to schedule a free consultation and learn how our experience can help you recover your investment losses. No recovery, no fee.
Unsuitability of the recommended investment strategy for the claimants
Misrepresentation of the potential risks and returns of the options overlay strategy
It should be noted that these allegations are yet to be substantiated and the case is currently pending.
Recovery of Losses through FINRA Arbitration
For investors who have faced similar situations, there is a ray of hope in the form of the Financial Industry Regulatory Authority (FINRA) arbitration. This platform provides an efficient and less expensive alternative to court litigation for resolving disputes between investors and brokers or brokerage firms.
Through FINRA arbitration, investors can seek to recover their losses caused by broker negligence, misrepresentation, or fraud. The process involves presenting the case before a panel of arbitrators who then review the evidence and make a binding decision.
Investors should be aware that:
Claims must be filed within six years of the event or occurrence giving rise to the claim.
FINRA arbitration is final and binding, with very limited grounds for appeal.
Therefore, if you believe you have suffered losses due to broker misconduct, it may be beneficial to consult with a securities arbitration lawyer to understand your options and navigate the FINRA arbitration process.
Conclusion
The case involving Russell Rabito and UBS Financial Services Inc. serves as a reminder of the risks involved in investing, and the importance of transparency and suitability in broker recommendations. As the case unfolds, it will be interesting to see how the allegations are addressed and what it means for the broader financial industry.