Recently, a pending customer dispute has been brought to light involving Rishi Oad, a broker and investment advisor currently associated with UBS Financial Services Inc. The customer alleges unsuitable investment recommendations and unauthorized trading that occurred in March 2020. The dispute, case number 23-01968, is still under investigation by the Financial Industry Regulatory Authority (FINRA) and the potential consequences for the involved parties remain uncertain.
Background of the Case
Rishi Oad has been a registered broker and investment advisor with UBS Financial Services Inc since April 26, 2022. Prior to his current position, he was also associated with Merrill Lynch, Pierce, Fenner & Smith Incorporated. The dispute alleges that Oad made unsuitable investment recommendations in equity listed common and preferred stock, and engaged in unauthorized trading on behalf of the customer. The case is currently pending with a claim amount of $663,2036.
What is FINRA Arbitration?
The Financial Industry Regulatory Authority (FINRA) is a non-governmental organization that regulates member brokerage firms and exchange markets in the United States. FINRA operates the largest dispute resolution forum in the securities industry and has extensive experience in providing a fair, efficient and effective venue to handle a securities-related dispute.
Recovering Losses with FINRA Arbitration
Investors who have suffered losses due to unsuitable investment recommendations or unauthorized trading can potentially recover their losses through FINRA arbitration. This process involves: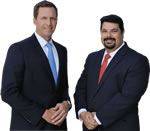 AD - Recover your investment losses! Haselkorn & Thibaut, P.A. is a national law firm that specializes in fighting ONLY on behalf of investors. With a 95% success rate, let us help you recover your investment losses today. Call now 1-888-784-3315 or visit InvestmentFraudLawyers.com to schedule a free consultation and learn how our experience can help you recover your investment losses. No recovery, no fee.
Filing a statement of claim outlining the nature of the dispute and the relief requested
Selection of arbitrators who will review the case
An evidentiary hearing where both parties present their case
A decision by the arbitrators, which is final and binding
Investors should note that the process of FINRA arbitration can be complex and may require the assistance of an experienced securities arbitration lawyer.
Looking Forward
As the case against Rishi Oad and UBS Financial Services Inc is still pending, it serves as a reminder to investors to always keep a close eye on their investment accounts. It is crucial to understand every transaction made and to question any that seem unauthorized or unsuitable. If an investor suspects wrongdoing, they should not hesitate to take action and seek legal advice.
While the financial industry is heavily regulated, cases of unsuitable investment recommendations and unauthorized trading can still occur. Investors must stay vigilant and take steps to protect their investments. The FINRA arbitration process is one such mechanism that can help investors recover their losses in such situations.