National investment loss law firm, Haselkorn & Thaibut, reports that broker/investment advisor Richard Frederic Spettell (CRD# 1686392) has been suspended from acting as a broker or associating with a broker-dealer firm by the Financial Industry Regulatory Authority ("FINRA"). This decision comes after Spettell allegedly improperly changed the code for 110 trades in Morgan Stanley customer accounts to his personal representative code; after entering into an agreement with another Morgan Stanley representative, he agreed to service the accounts under a joint representative code that the two shared.
According to FINRA BrokerCheck, Richard Spettell was previously registered as a broker and investment advisor with Morgan Stanley from 2009 to 2021 in New York, NY. Spettell was discharged from Morgan Stanley in 2021 and is currently registered with Ameriprise Financial Services in New York, NY.
Investors who suffered losses with Richard Spettell may be entitled to a financial recovery. Contact an investment fraud lawyer immediately at 1-888-784-3315or visit InvestmentFraudLawyers.com to discuss your recovery options at no cost.
Table of Contents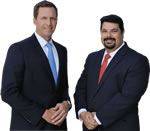 AD - Recover your investment losses! Haselkorn & Thibaut, P.A. is a national law firm that specializes in fighting ONLY on behalf of investors. With a 98% success rate, let us help you recover your investment losses today. Call now 1-888-784-3315 or visit InvestmentFraudLawyers.com to schedule a free consultation and learn how our experience can help you recover your investment losses. No recovery, no fee.
Richard Spettell Suspended and Fined by FINRA
On June 15th, 2023, FINRA's Department of Enforcement entered into a Letter of Acceptance, Waiver, and Consent ("AWC") with Richard Spettell, disclosing that Spettell consented to sanctions of a one-month suspension from associating with any FINRA member in all capacities and a $2,500 fine.
According to the AWC, the matter originated from FINRA's review of a Form U5 filed by Morgan Stanley. FINRA's Form U5 is the "Uniform Termination Notice for Securities Industry Registration," used by brokerage firms each time one of their registered employees leaves the firm, for any reason.
FINRA found that on ​​March 1, 2021, Morgan Stanley filed a Form U5 stating that the firm had discharged Spettell due to "[c]oncerns that the representative submitted transactions under production numbers that were inconsistent with [an] agreement with another representative, resulting in a shortfall of revenue credited to the other representative."
Richard Spettell's Violation of FINRA Rule 4511 and Rule 2010
Spettell's actions allegedly resulted in his receiving higher commissions from the 110 trades he executed than what he was entitled to receive, pursuant to his agreement with a former representative. According to FINRA, by causing Morgan Stanley to maintain inaccurate trade confirmations, Spettell violated FINRA Rules 4511 and 2010.
FINRA Rule 4511 (General Requirements) requires broker-dealer firms and their registered persons to "make and preserve books and records as required under the FlNRA rules, the Exchange Act, and the applicable Exchange Act rules."
A violation of FINRA Rule 4511 is also a violation of FINRA Rule 2010, which requires members and their associated persons, in the conduct of their business, to "observe high standards of commercial honor and just and equitable principles of trade."
According to FINRA, brokerage firms are responsible for the supervision of all the activities of their registered brokers/financial advisors. Investors may be entitled to a financial recovery if their brokerage firm failed to supervise the representative managing their brokerage account and/or if their broker/advisor made unsuitable investment recommendations.
Investors who suffered losses with Richard Spettell at Morgan Stanley and/or Ameriprise Financial Services may have recovery options. Contact an investment fraud lawyer to discuss your legal options at 1-888-784-3315or by visiting InvestmentFraudLawyers.com. No recovery, no fee.
About InvestmentFraudLawyers.com
InvestmentFraudLawyers.com is a leading national securities law firm that practices exclusively in securities arbitration on behalf of retail and institutional investors worldwide in large and complex securities matters. With over 50 years of experience, InvestmentFraudLawyers.com has offices in Florida, New York, North Carolina, Arizona, and Texas and a 98% success rate. Call them now for a free consultation at 1-888-784-3315. No recovery, no fee.
Free AlphaBetaStock's Cheat Sheet (No CC)!
+ Bonus Dividend Stock Picks