On July 10, 2023, a significant regulatory decision was made concerning Robert Levy, a broker and investment advisor associated with UBS Financial Services, Inc. (CRD 8174). The decision was handed down by the Florida Office of Financial Regulation (FLOFR), and it has raised some important issues for both investors and financial professionals alike.
According to the regulatory findings, Levy rendered investment advice from a location in Florida without being registered by the Office. This is a serious violation of regulations, as it is mandatory for all investment advisors to be registered in the state they are operating in. Levy was operating from a residential location in Florida, but was not IAR registered in the state.
Details of the Regulatory Decision
Levy, though acting in good faith and believing he had maintained all necessary licenses and registrations, agreed to the entry of a Stipulation & Consent Agreement. This agreement was put forth without Levy admitting to or denying the FLOFR's allegations. The details of the agreement are as follows:
Levy agreed to the imposition of a $22,500 fine.
The FLOFR agreed to approve Levy's IAR registration in Florida.
As a result of this agreement, the FLOFR issued a Cease and Desist order against Levy and imposed a civil and administrative penalty.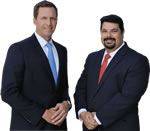 AD - Recover your investment losses! Haselkorn & Thibaut, P.A. is a national law firm that specializes in fighting ONLY on behalf of investors. With a 95% success rate, let us help you recover your investment losses today. Call now 1-888-784-3315 or visit InvestmentFraudLawyers.com to schedule a free consultation and learn how our experience can help you recover your investment losses. No recovery, no fee.
What This Means for Investors
This case brings to light the importance of investors ensuring that their brokers and investment advisors are properly registered in the state they are operating in. It also highlights the potential for investors to recover losses through FINRA arbitration.
Recovering Losses with FINRA Arbitration
The Financial Industry Regulatory Authority (FINRA) offers an arbitration process that is often quicker and less expensive than traditional litigation. This process can be used by investors to recover losses caused by the misconduct of brokers and investment advisors.
If you believe you have suffered losses due to the actions of an unregistered broker or investment advisor, you may be able to file a claim through FINRA arbitration. This process involves filing a statement of claim, selecting an arbitrator, and presenting your case at a hearing.
Investors should be aware that there are strict time limits for filing claims, so it is important to act quickly if you believe you have a valid claim.
In conclusion, the case of Robert Levy and UBS Financial Services, Inc. serves as a reminder to investors to ensure their advisors are properly registered and to be aware of the options available to them if they suffer losses due to regulatory violations.