A recent dispute has emerged in the financial world that has left investors and market watchers stunned. John Woods, James Woods, and Michael Mooney have been accused of conducting a Ponzi Scheme that allegedly took place over a period of 13 years, from 2008 to 2021. The claimants allege that the sum involved in this fraudulent scheme is a whopping $1,000,000.
Details of the Alleged Scheme
The three individuals involved in this case are all associated with reputable financial firms. Michael Mooney was associated with Oppenheimer & Co. Inc. (CRD 249) from January 4, 2007, till May 18, 2010. He later moved to Southport Capital (CRD 113364) and was associated with them from October 6, 2010, till August 26, 2021. The details of the associations of John Woods and James Woods are currently under investigation.
The allegations against these individuals involve a classic Ponzi scheme, where investors are promised high returns with little risk. The money from new investors is used to pay the earlier investors, creating a cycle of deceit and fraud.
Recovering Losses with FINRA Arbitration
As the news of this alleged Ponzi scheme breaks, it's crucial for investors to know that they have options for recovering their losses. One such option is through FINRA arbitration.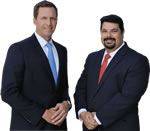 AD - Recover your investment losses! Haselkorn & Thibaut, P.A. is a national law firm that specializes in fighting ONLY on behalf of investors. With a 95% success rate, let us help you recover your investment losses today. Call now 1-888-784-3315 or visit InvestmentFraudLawyers.com to schedule a free consultation and learn how our experience can help you recover your investment losses. No recovery, no fee.
The Financial Industry Regulatory Authority (FINRA) is a non-governmental organization that regulates member brokerage firms and exchange markets. It provides an arbitration platform for investors who have disputes with their brokers or brokerage firms.
Some of the benefits of choosing FINRA arbitration include:
Speed: Cases are typically heard within 12 to 18 months, which is faster than most court proceedings.
Cost: Arbitration can be significantly less expensive than traditional litigation.
Flexibility: Arbitration hearings are less formal than court and can be scheduled around the parties' availability.
Investors who believe they have been victims of this Ponzi scheme are encouraged to explore FINRA arbitration as a method to potentially recover their losses.
Ensuring Fluent Communication
As this case unfolds, it's essential that all communication regarding the dispute is clear and fluent. This includes ensuring all legal documents are thoroughly reviewed and all financial terms are clearly defined. This will help to ensure that all parties involved understand the proceedings and can make informed decisions.
In conclusion, the allegations against John Woods, James Woods, and Michael Mooney are serious and potentially damaging to the investors involved. It's crucial that these investors explore all avenues for recovering their losses, including FINRA arbitration. As always, it's recommended that investors seek legal advice when dealing with disputes of this nature.