In an alarming revelation, claimants have alleged that John Woods, James Woods, and Michael Mooney conducted a Ponzi Scheme that spanned over a decade, from 2008 to 2021. The alleged fraudulent scheme involves a staggering sum of $1,000,000.00. The financial professionals, John Woods, James Woods, and Michael Mooney, were previously affiliated with OPPENHEIMER & CO. INC. and SOUTHPORT CAPITAL.
Background of the Accused
John Woods was associated with OPPENHEIMER & CO. INC. (CRD 249) from 01/03/2003 to 12/31/2016. Following this, he moved to SOUTHPORT CAPITAL (CRD 113364) where he served from 01/02/2019 to 08/26/2021. The other accused, James Woods and Michael Mooney, also share a similar professional background.
Details of the Alleged Ponzi Scheme
The nature of the investments associated with the alleged Ponzi scheme involves Equity Listed (Common & Preferred Stock) and other private placements. The case, numbered 23-02037N1111NIAPD, is currently pending and under investigation.
Recovering Losses with FINRA Arbitration
Victims of such fraudulent schemes have a legal recourse to recover their losses. The Financial Industry Regulatory Authority (FINRA) offers an arbitration platform where investors can file claims against financial professionals and firms. FINRA arbitration is a faster, cheaper and less formal alternative to litigation in court.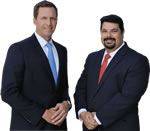 AD - Recover your investment losses! Haselkorn & Thibaut, P.A. is a national law firm that specializes in fighting ONLY on behalf of investors. With a 95% success rate, let us help you recover your investment losses today. Call now 1-888-784-3315 or visit InvestmentFraudLawyers.com to schedule a free consultation and learn how our experience can help you recover your investment losses. No recovery, no fee.
Speedy Resolution: FINRA arbitration cases typically conclude within 12 to 18 months, which is significantly quicker than traditional court cases.
Cost-Effective: The costs associated with FINRA arbitration are usually lower than those of court litigation. This includes filing fees, hearing session fees, and other costs.
Simplified Process: The arbitration process is less formal and complex than court proceedings, making it more accessible to individuals without legal expertise.
Investors who believe they have been victims of the alleged Ponzi scheme conducted by John Woods, James Woods, and Michael Mooney can consider filing a claim with FINRA arbitration.
Final Thoughts
While the investigation into the alleged Ponzi scheme is still ongoing, it serves as a stark reminder of the importance of due diligence when investing. Investors should always be wary of too-good-to-be-true investment opportunities and conduct thorough research before committing their hard-earned money. With the availability of platforms like FINRA arbitration, victims of investment fraud have a fighting chance to recover their losses.