Investors Seek Recovery of Losses Through FINRA Arbitration Following Risky Recommendations
Investors are increasingly turning to the Financial Industry Regulatory Authority (FINRA) for arbitration in a bid to recover losses incurred from allegedly risky recommendations. A recent dispute involving Peter Clarke, a broker at Truist Investment Services, Inc. and formerly at Rockefeller Financial LLC and Rockefeller Capital Management, has brought the issue into sharp focus.
The client alleges that the recommendations made by Clarke were too risky, leading to a substantial loss of $6,300,000. This case, like many others, underscores the growing concern among investors about the risk associated with certain investment strategies and the potential for significant financial loss.
Understanding the Case
The dispute, logged under case number 23-01936N, was filed on 7/11/2023. The client claims that the equity listed (common and preferred stock) recommendations made by Clarke were not in line with their risk tolerance or investment objectives. The alleged misconduct took place while Clarke was associated with Truist Investment Services, Inc. and Rockefeller Financial LLC (CRD 291361) between 11/12/2021 and the present date.
This case is just one of many that highlight the importance of brokers and investment advisors understanding and respecting their clients' risk tolerance. It also raises questions about the adequacy of the risk assessment procedures in place at these financial institutions.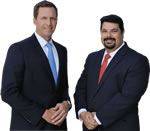 AD - Recover your investment losses! Haselkorn & Thibaut, P.A. is a national law firm that specializes in fighting ONLY on behalf of investors. With a 95% success rate, let us help you recover your investment losses today. Call now 1-888-784-3315 or visit InvestmentFraudLawyers.com to schedule a free consultation and learn how our experience can help you recover your investment losses. No recovery, no fee.
Recovering Losses with FINRA Arbitration
Investors who have suffered losses due to unsuitable or risky recommendations can seek recourse through FINRA arbitration. Here's how it works:
File a Claim: The investor submits a claim detailing the nature of the dispute and the losses incurred.
Response: The broker or firm has 45 days to respond to the claim. If they fail to do so, FINRA may award a default judgment in favor of the investor.
Hearing: If the case proceeds to a hearing, both parties present their arguments before a panel of arbitrators who then make a decision.
FINRA arbitration is often a faster and more cost-effective way to resolve investment disputes than traditional litigation. It also offers a level of anonymity, as the proceedings are private.
Ensuring Investor Protection
The case involving Peter Clarke and Truist Investment Services, Inc. is a stark reminder of the risks associated with investment. It emphasizes the need for financial institutions to have robust risk assessment procedures in place and for brokers to fully understand and respect their clients' risk tolerance.
While the outcome of the dispute is yet to be determined, it serves as a reminder to investors to be vigilant and proactive in understanding the risks associated with their investments. And, if things go wrong, remember that resources like FINRA arbitration are available to help recover losses.