A recent twist of events has seen a customer dispute filed against Leonard SegalA broker is a person who deals with securities. J.P. Morgan Securities LLC. The claimant says Segal gave a bad recommendation regarding a managed investment account. The activity was conducted on June 27, 2023. A dispute is currently pending, and damages of $12,250 are alleged.
Details of the Dispute
Leonard Segal is accused of making a poor recommendation to the customer regarding an investment in a managed account. According to the claimant this recommendation caused a $12,250 loss, which has now become the subject of dispute. The issue is dated June 27, 2023.
Leonard Segal, who is involved in the dispute, works for J.P. Morgan Securities LLC. BrokerCheck shows that Leonard Segal has been working for the firm since 3 March 2020. The company itself, J.P. Morgan Securities LLC holds a CRD of 79.
Finra arbitration can help you recover your losses
Investors who have suffered similar situations should know that they can recover their losses. A good example is the Financial Industry Regulatory Authority's (FINRA's) arbitration process.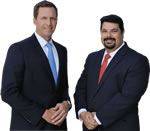 AD - Recover your investment losses! Haselkorn & Thibaut, P.A. is a national law firm that specializes in fighting ONLY on behalf of investors. With a 95% success rate, let us help you recover your investment losses today. Call now 1-888-784-3315 or visit InvestmentFraudLawyers.com to schedule a free consultation and learn how our experience can help you recover your investment losses. No recovery, no fee.
Arbitration by FINRA It is a cheaper and faster alternative to litigation.
Investors may file a complaint with FINRA detailing their dispute and damages sought.
Arbitrators review and decide the case. Their decision is final.
Investors who suffer losses as a result of poor investment advice or other broker misconduct may want to consider FINRA Arbitration to recover those losses.
Protecting Investor Interests
These incidents highlight the importance of vigilant investor. Investors must carefully scrutinize all investment recommendations made by their brokers. It is important to understand the risks and ensure that the recommended investments are in line with the investor's financial goals and tolerance for risk.
Brokers and investment advisers are bound by a fiduciary obligation to act in their clients' best interests. This duty is owed by brokers and investment advisors. They must act in the best interest of their clients.
The dispute between Leonard Segal and J.P. Morgan Securities LLC continues to be pending. However, this serves as a warning to investors that they should remain vigilant, pro-active, and aware of the rights they have when it concerns their investments.