A pending customer dispute has surfaced against Andrew Rodgers, a financial advisor currently affiliated with RAYMOND JAMES FINANCIAL SERVICES, INC. The client alleges that Rodgers did not exercise his fiduciary duty while managing a discretionary account. The dispute, logged on 7/26/2023, involves a significant sum of $134,953.
Details of the Dispute
The client claims that Rodgers, a broker and investment advisor with RAYMOND JAMES FINANCIAL SERVICES, INC (CRD 6694) since 07/31/2012, failed to act in the client's best interest. The investments in question involve equity listed, including both common and preferred stock. The case, numbered 23-02052N1010N, is currently pending.
Andrew Rodgers has also been affiliated with RAYMOND JAMES FINANCIAL SERVICES ADVISORS, INC (CRD 149018) since 08/23/2012. His record can be viewed on BrokerCheck.
What is Fiduciary Duty?
Fiduciary duty refers to the legal obligation of a financial advisor to act in the best interests of their client. This includes making prudent investment decisions, disclosing any potential conflicts of interest, and treating all clients fairly. Failure to uphold this duty can result in significant financial losses for the client and potential legal repercussions for the advisor.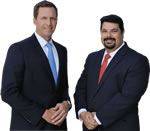 AD - Recover your investment losses! Haselkorn & Thibaut, P.A. is a national law firm that specializes in fighting ONLY on behalf of investors. With a 95% success rate, let us help you recover your investment losses today. Call now 1-888-784-3315 or visit InvestmentFraudLawyers.com to schedule a free consultation and learn how our experience can help you recover your investment losses. No recovery, no fee.
Recovering Losses with Finra Arbitration
Investors who have suffered losses due to the negligence or misconduct of a financial advisor have the right to seek compensation. One of the most common ways to do this is through FINRA arbitration.
FINRA arbitration is a dispute resolution process that is quicker and typically less costly than traditional litigation. It involves a panel of impartial arbitrators who review the evidence and make a binding decision.
Investors can file a claim with FINRA within six years of the event or occurrence giving rise to the claim. This time limit is typically stricter than those imposed by the courts.
Investors can seek damages for a variety of losses, including investment losses, lost opportunity costs, and in some cases, punitive damages.
If you have suffered financial losses due to the actions of a financial advisor, it is recommended to consult with an experienced securities arbitration lawyer. They can guide you through the process and help you recover your losses.
In conclusion, the pending dispute against Andrew Rodgers highlights the importance of financial advisors adhering to their fiduciary duty. Investors who believe they have been wronged should not hesitate to seek justice through avenues like FINRA arbitration.