A Royalton resident faces serious criminal charges after allegedly conning investors out of $800,000.
The suspect, 45-year-old Kenneth Proctor, was indicted on multiple charges, including securities fraud, money laundering, and grand theft by deception. According to the indictment, Proctor allegedly defrauded victims out of hundreds of thousands of dollars by falsely claiming investments in a business he ran would make them significant returns.
The indictment states Proctor solicited investments from investors by offering them shares in a business he ran called "The Proctor Group LLC" between February 2018 and February 2020. He promised the investors that their investments would be used to fund real estate and other ventures and that they would see 20-30% returns.
However, instead of investing the money as he promised, Proctor allegedly used the funds for his own personal expenses. He allegedly transferred money to various accounts, including his own personal bank accounts and those of family members.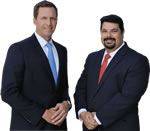 AD - Recover your investment losses! Haselkorn & Thibaut, P.A. is a national law firm that specializes in fighting ONLY on behalf of investors. With a 98% success rate, let us help you recover your investment losses today. Call now 1-888-784-3315 or visit InvestmentFraudLawyers.com to schedule a free consultation and learn how our experience can help you recover your investment losses. No recovery, no fee.
The Cuyahoga County Prosecutor's Office has charged Proctor with one count of securities fraud, one count of engaging in a pattern of corrupt activity, two counts of money laundering, four counts of grand theft by deception, and one count of tampering with records.
The Cuyahoga County Prosecutor's Office urges anyone who has been a Proctor's investment fraud victim to come forward. Proctor could face up to 11 years in prison and up to $20,000 in fines if convicted.
Investors should be wary of any person or business offering unrealistic investment returns. Before investing any money, it's important to research the person or business making the offer to ensure they are legitimate and trustworthy. The Cuyahoga County Prosecutor's Office warns investors to be aware of common red flags such as demanding large upfront fees, guaranteeing returns on investments, and pressuring investors to make decisions quickly.
This case serves as a reminder that if something seems too good to be true, it probably is. When investing money, always do your due diligence and never trust anyone who offers unrealistic promises.
Free AlphaBetaStock's Cheat Sheet (No CC)!
+ Bonus Dividend Stock Picks