In a recent development, a group of investors lodged a complaint against Eric Kuchherzki, a registered representative of CENTAURUS FINANCIAL, INC., alleging improper recommendation of a high-risk and illiquid investment. The dispute, which was brought to light between March 2020 and May 2021, involves an amount of $120,000. The case is currently pending, with an arbitration process set to commence soon.
Details of the Dispute
The customers' allegations center around the claim that Mr. Kuchherzki recommended an investment that was not only high-risk but also illiquid. This investment, they argue, was not suitable given their financial circumstances, goals, and objectives. The case, numbered 23-01883, was initially filed as a multi-party arbitration on January 9, 2023.
However, the broker/dealer requested and was granted a Motion to Sever, arguing that the original arbitration was filed with multiple unrelated clients and/or representatives, making a multi-party action inappropriate.
Broker's Defense
In response to the allegations, Mr. Kuchherzki has vehemently denied any wrongdoing. He asserts that the investments in question were suitable and recommended based on the customers' objectives, goals, and financial circumstances. He further maintains that these investments were offered only after the customers had reviewed all relevant documentation related to the investment.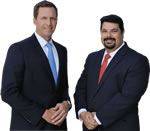 AD - Recover your investment losses! Haselkorn & Thibaut, P.A. is a national law firm that specializes in fighting ONLY on behalf of investors. With a 95% success rate, let us help you recover your investment losses today. Call now 1-888-784-3315 or visit InvestmentFraudLawyers.com to schedule a free consultation and learn how our experience can help you recover your investment losses. No recovery, no fee.
According to Mr. Kuchherzki, the customers confirmed in writing that they not only received the requisite investment documentation/disclosures, but that they also fully understood the characteristics and risks of the investments. He insists that he has always prioritized the customers' interests and promises to defend the matter vigorously to the fullest extent of the law.
Investors Recovering Losses with Finra Arbitration
FINRA arbitration is often used by investors to recover financial losses resulting from disputes with brokers or brokerage firms. This process is typically faster and less formal than court litigation.
Through FINRA arbitration, investors can present their case before a panel of arbitrators who will then make a decision based on the evidence provided.
The arbitrators' decision is final and binding, providing a resolution for investors who have suffered financial losses due to improper conduct by brokers or brokerage firms.
In conclusion, the dispute between the group of investors and Mr. Kuchherzki is a reminder of the importance of due diligence when engaging in financial investments. It also highlights the role of FINRA arbitration in settling disputes and helping investors recover losses. The outcome of this case will undoubtedly be closely watched by stakeholders in the financial industry.