The stock market experienced a positive end to the first week of May, although the gains on Friday were not enough to offset the week's losses for most major indices. The S&P 500 jumped up and down all week as investors tried to digest the economic data and events.
Key market events during the week included numerous earnings reports, the FOMC rate hike on Wednesday, the ECB rate hike, Apple's (AAPL) earnings on Thursday, and the April Employment Report on Friday.
Warren Buffett Insights
Amidst recent market fluctuations and concerns about the economy, Berkshire Hathaway CEO Warren Buffett offered a composed and stable perspective while addressing shareholder questions on Saturday.
That isn't to suggest that Buffett doesn't anticipate some challenges in the future. He mentioned that commercial real estate might grapple with increased borrowing rates and that banks could experience added pressure, though he reassured that deposits remain secure. Regarding the economy, Buffett pointed out that his companies will likely witness a decline in year-over-year earnings due to a slowdown in economic activity.
"In the 58 years we've been running Berkshire, I would say there's been a great increase in the number people doing dumb things, and they do big dumb things," Buffett expressed that more opportunities to generate profits are likely to emerge in the future as a result.
Debt Ceiling Fight
On Tuesday, Treasury Secretary Yellen unexpectedly revealed that the country's extraordinary measures to pay its obligations could run out as early as June 1. The debt ceiling discussion will take place on May 9 when President Biden meets with House Speaker McCarthy and other Congressional leaders.
In the past, this has not been an issue and caused the markets to be more volatile. The chance of a last-minute deal is very likely.
Growth concerns, regional bank stock declines, debt ceiling worries, and uncertainty about central banks causing a sharper economic slowdown drove the market, but Friday's trade was influenced by the positive reaction to Apple's earnings report, the April Employment Report, and a recovery in regional bank stocks.
Bank Concerns Continue
Last weekend, regulators seized First Republic Bank (FRC), with the FDIC helping to arrange a deal for JPMorgan Chase (JPM) to acquire most of FRC's assets, deposits, and some liabilities.
Later, PacWest (PACW) announced on Thursday that it was exploring strategic options, and concerns grew when the Financial Times reported that Western Alliance (WAL) was also considering strategic alternatives, including a potential sale, but WAL later denied this claim.
PacWest and Western Alliance suffered losses of 43.3% and 26.8%, respectively, this week, despite recoveries on Friday due to short-covering activity. The SPDR S&P Regional Bank ETF (KRE) declined 10.1% during the week.
FOMC Decision
Following the FOMC's unanimous decision to raise the target range for the fed funds rate by 25 basis points to 5.00-5.25% on Wednesday, concerns about central banks causing a more severe economic slump intensified. Despite this, key indices fell that day due to the belief that the Fed is unlikely to cut interest rates anytime soon.
Positive Jobs and Apple Numbers
However, by Friday, worries about excessive tightening and central banks causing an economic hard landing began to fade, thanks to the April Employment Report, which showed potential for a soft landing for the economy despite the Fed's continuous rate hikes. Apple's (AAPL) positive earnings report and capital return plan on Friday were also responsible for the index's gains.
CALENDAR & MOVERS
Wednesday, May 10: CPI (MoM) (April)
Thursday, May 11 – PPI (MoM) (April)
CPI Preview
The upcoming week will feature the notable release of the April inflation report. Headline inflation is projected to rise by 0.4% on a monthly basis and increase by 5.6% compared to the previous year. Energy prices are expected to have climbed during the month, while food prices may not display the same slowdown witnessed in March. Two categories predicted to experience a month-over-month decline are airfares and healthcare insurance.
Dividends
I've noticed that several companies are expected to increase their quarterly payouts and this should cause a bump in their stock prices. These include Tegna (TGNA), which is predicted to go from $0.11 to $0.16; Kelly Services (KELYA), expected to rise from $0.075 to $0.085; Cheesecake Factory (CAKE), forecasted to increase from $0.27 to $0.30; Marriott International (MAR), projected to go from $0.40 to $0.45; and Dine Brands (DIN), anticipated to rise from $0.51 to $0.56.
BONDS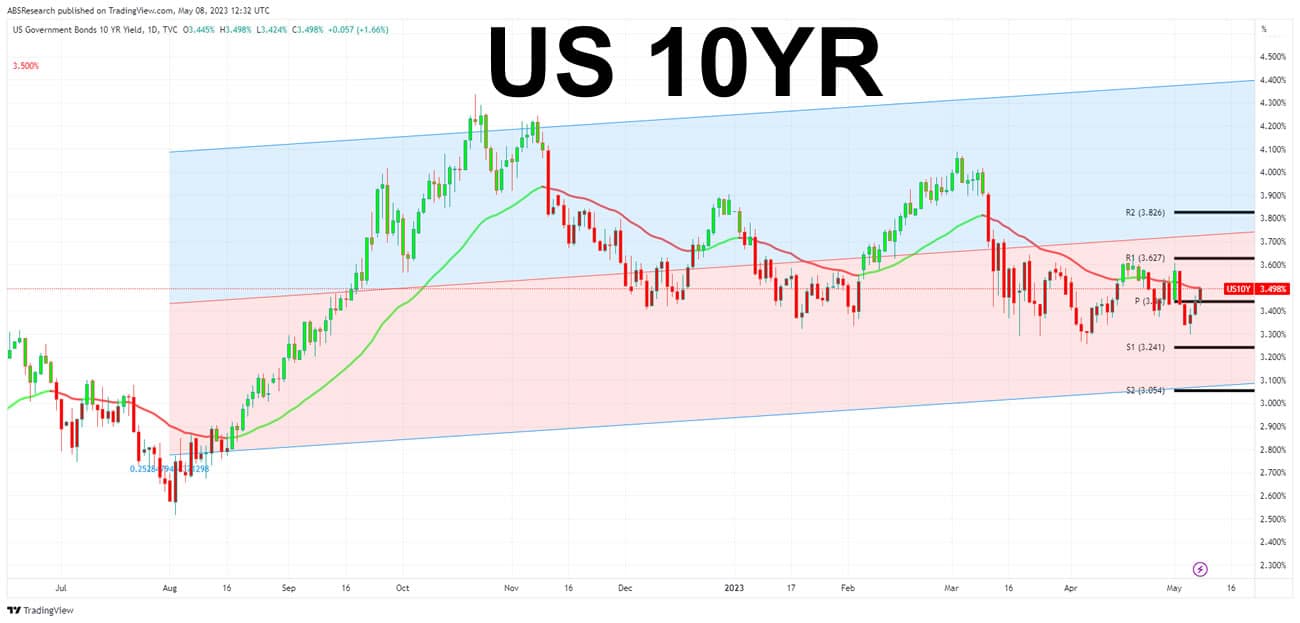 Last week was filled with numerous monetary policy announcements. The US Federal Reserve initiated the series of decisions last Wednesday, raising its benchmark interest rate by 25 basis points, followed by the European Central Bank the next day. Jerome Powell's outlook was, at best, unclear.
Clarity regarding the end of the tightening cycle was desired, but instead, we received ambiguous information. Luckily, last Friday's employment report exceeded expectations, providing a bright spot in an otherwise dreary week. In the meantime, the US 10-year Treasury yield has been fluctuating within a tight range of 3.63/3.31%.
COMMODITIES
Oil & Energy
Oil prices dropped for the third consecutive week, burdened by recession concerns. The situation remains the same: despite predictions of a tight market in the latter half of the year, investors view the situation pessimistically due to the potential negative impact of an economic downturn on demand.
Further tremors in the US banking system have done little to alleviate investor sentiment. Consequently, oil prices have experienced significant declines in recent sessions, with European Brent and US WTI each falling around 5% week-over-week to $74 and $70 per barrel, respectively.
Precious Metals & Gold
There is little news in the industrial metals sector this week. Prices remained relatively stable, with copper around $8500, aluminum at $2300, and zinc at $2600. Gold, conversely, captured attention as the dollar-denominated metal reached a new peak of $2081.
The precious metal is in demand, benefiting from a decrease in bond yields, which may continue to decline with the potential end of Fed rate hikes, and from increased risk aversion due to troubles in US banks.
CRYPTOCURRENCY
Bitcoin has remained fairly steady this week, hovering around $29,000 at the time of writing. Meanwhile, ether has outperformed the market leader by gaining over 3% since Monday. However, in the absence of strong positive catalysts, digital currencies continue to be influenced by global economic conditions, and will therefore remain sensitive to upcoming economic data.
Free AlphaBetaStock's Cheat Sheet (No CC)!
+ Bonus Dividend Stock Picks