A recent dispute has emerged involving a client and her financial advisor over allegations of misrepresented rates on her managed accounts. The client, who has chosen to remain anonymous, alleges that the rate she was to be charged on her managed accounts was misrepresented by her financial advisor, Marcus Kline, currently working at Morgan Stanley.
The Case
The client lodged a complaint with the Financial Industry Regulatory Authority (FINRA), claiming that she was misled about the rate that would be charged on her managed accounts. The dispute, which is still pending, was filed on 7th November 2023. Although the exact amount of damages sought by the client is unspecified, the case number 2021-2032661830 is expected to draw significant attention due to the serious nature of the allegations.
Marcus Kline, the advisor in question, has been with Morgan Stanley (CRD 149777) since 5th May 2021. His role at the company involves managing wrap accounts, a type of investment portfolio that includes various kinds of securities for a single fee. The case has raised questions about the transparency and integrity of managed accounts and the advisors who handle them.
The Role of FINRA
FINRA plays a crucial role in maintaining the integrity of the financial markets and protecting investors. It does this by ensuring that all registered brokers and advisors adhere to the strict rules and regulations set out by the Securities and Exchange Commission (SEC). When disputes arise, such as the one involving Marcus Kline and his client, FINRA provides a platform for arbitration.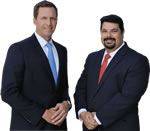 AD - Recover your investment losses! Haselkorn & Thibaut, P.A. is a national law firm that specializes in fighting ONLY on behalf of investors. With a 95% success rate, let us help you recover your investment losses today. Call now 1-888-784-3315 or visit InvestmentFraudLawyers.com to schedule a free consultation and learn how our experience can help you recover your investment losses. No recovery, no fee.
Recovering Losses through FINRA Arbitration
Investors who feel they have been wronged by their financial advisors have the option to recover their losses through FINRA arbitration. This process involves:
Filing a statement of claim outlining the dispute and the damages sought.
Choosing an arbitration panel to hear the case.
Presenting evidence and arguments to the panel.
Receiving a decision from the panel, which is final and binding.
It's important for investors to know that they have rights and avenues for recourse if they believe they have been misled or treated unfairly by their financial advisors. Through the FINRA arbitration process, investors can seek justice and potentially recover their losses.
As this case continues to unfold, it serves as a reminder to investors to remain vigilant and to thoroughly understand the terms and conditions of their managed accounts. It also underscores the importance of financial advisors maintaining transparency and honesty in their dealings with clients.
For more updates on this case and others like it, stay tuned to our financial news blog.