A recent dispute has arisen involving Registered Representative Manuel Ramos from Centaurus Financial, Inc. The customer alleges that in November 2016, Ramos recommended illiquid investments with declining values and high fees. The customer is seeking a return of $100,000, claiming that these investments were not suitable for their financial circumstances.
The Allegations
The customer's complaint, filed on 7th May 2023, states that the investments recommended by Ramos were not only illiquid, meaning they could not be easily sold or exchanged for cash without a substantial loss in value, but also had high fees. The customer further alleges that the value of these investments has been declining since their purchase.
In response to these allegations, Manuel Ramos has vehemently denied any wrongdoing. Ramos asserts that the investments were suitable and were recommended based on the customer's objectives, goals, and financial circumstances. He further states that the investments were offered only after the customer reviewed all material documentation related to the investment.
Investor Protection
Investors who believe they have been wronged have the right to seek recourse. One such method is through the Financial Industry Regulatory Authority (FINRA) arbitration process. This process allows investors to recover their losses if it is determined that the broker or financial advisor acted inappropriately or negligently.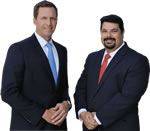 AD - Recover your investment losses! Haselkorn & Thibaut, P.A. is a national law firm that specializes in fighting ONLY on behalf of investors. With a 95% success rate, let us help you recover your investment losses today. Call now 1-888-784-3315 or visit InvestmentFraudLawyers.com to schedule a free consultation and learn how our experience can help you recover your investment losses. No recovery, no fee.
Recovering losses through FINRA arbitration involves the following steps:
Filing a Statement of Claim: This outlines the dispute and the amount of compensation sought.
Selection of Arbitrators: Both parties select a panel of arbitrators who will decide the case.
Discovery: Both parties exchange information related to the dispute.
Hearing: The arbitrators hear the case and make a decision.
It is important to note that the decision of the arbitrators is final and binding.
Broker's Defense
In his defense, Manuel Ramos states that the customer confirmed in writing that they not only received the requisite investment documentation/disclosures, but that he fully understood the characteristics and risks of the investments. Ramos has stated that he will vigorously defend this matter to the fullest extent of the law.
As an investor, it is crucial to understand the risks and rewards of any investment. When disputes arise, it is equally important to know your rights and the resources available to you for recovering any potential losses.
As this case unfolds, it serves as a reminder of the importance of investor vigilance and the value of having strong regulatory bodies like FINRA to protect investor interests.