Navigating the world of investments can be a daunting task, even for the most seasoned investor. When we place our hard-earned money in the hands of professionals, there's an inherent trust, a hope that these individuals will act in our best interests. But what happens when that trust is broken? Can investors, especially those who are vulnerable, such as the elderly, expect justice? Enter the unfolding narrative surrounding broker Gilbert Russell Conrad.
Gilbert Russell Conrad's Professional Backdrop
Let's familiarize ourselves with the man in question. Gilbert Russell Conrad, with a FINRA CRD# 2746778, boasts an expansive career with affiliations to esteemed firms. He started with J.P. Turner, eventually transitioning to Cetera Advisors upon its acquisition. From there, he had stints with Summit Brokerage Services, Independent Financial Group, and Arkadios Capital. Presently, Conrad aligns himself with Coastal Equities, Inc., based out of Lewiston, NY.
What's the Contention?
At the heart of this tumultuous tale lies an 82-year-old widow. She sought the professional expertise of Conrad, hoping for low-risk, income-centric investments, something quintessential for a secure retirement. But as the claim alleges, Conrad had other plans. Diverging from the client's intentions, Conrad purportedly pooled the widow's funds into various private placement investments—investments that were rife with risk and conspicuously lacked liquidity.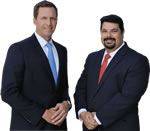 AD - Recover your investment losses! Haselkorn & Thibaut, P.A. is a national law firm that specializes in fighting ONLY on behalf of investors. With a 98% success rate, let us help you recover your investment losses today. Call now 1-888-784-3315 or visit InvestmentFraudLawyers.com to schedule a free consultation and learn how our experience can help you recover your investment losses. No recovery, no fee.
Some of these contentious Alternative Investments include:
American Realty Capital REIT (Hospitality Investors Trust, Inc.)
Bluerock Real Estate
DT Group
Daymark Realty Advisors (Note: This is not to be confused with Daymark Realty, the latter being a residential real estate brokerage under the aegis of Coastal Credit Union, operational in North Carolina's Triangle region since 2007.)
Texas Energy Holdings
Lightstone Value Plus REIT
Apartment Trust of America REIT
Wells Real Estate REIT II
Brokers' Responsibility: A Matter of Trust
Brokerage and advisory firms, along with their designated brokers and investment advisors, are bound by a stringent code of conduct. The cornerstone of this fiduciary duty? Complete transparency. This involves comprehensive disclosures about recommended investments, especially the potential risks associated.
Misrepresentation or the omission of these critical facts is not just an ethical violation. It's grounds for accountability in a FINRA arbitration claim. Moreover, the SEC's Regulation Best Interest ("Reg BI") further fortifies this duty. It mandates financial professionals to prioritize their clients' best interests, ensuring that their recommendations are not just lucrative for the brokers but are also aligned with the client's financial goals.
Seeking Recourse: The Road Ahead
For those who've found themselves ensnared in the complexities of potentially misleading investment advice, the recommendation is clear: consult an experienced investment fraud lawyer. Especially in light of events surrounding Conrad, a discerning legal perspective can be pivotal. By doing so, investors can ascertain whether their investment setbacks arose due to a broker's failure to adhere to the SEC's Regulation Best Interest or other pertinent securities laws.
In essence, while the financial world might seem labyrinthine, there are structures in place to safeguard investors. The vital question that remains is, aren't you owed the peace of mind that your investments are being managed with integrity, transparency, and your best interests at heart? If there's even a shred of doubt, it might be time to seek the counsel of experts who can guide you towards the justice and clarity you rightfully deserve.
Free AlphaBetaStock's Cheat Sheet (No CC)!
+ Bonus Dividend Stock Picks